---
I have an affiliate relationship with
Bookshop.org
and
Malaprop's Bookstore
in beautiful Asheville, NC. I will earn a small commission at no additional cost to you if you purchase merchandise through links on my site. Read more on my
affiliate page
.
---
Today I have a guest post from author Stephanie Queen for you. Her newest novel, The Throwbacks, was just published this week! Congratulations, Stephanie! Be sure to look out for her previous novel, Between a Rock and a Mad Woman, as well.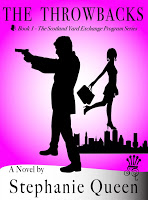 You know you 're in trouble as a writer when you interview one of your characters for a guest blog. Hi. My name is Stephanie Queen and I'm a writer. A romance writer. My problem is that I love my characters—almost as if they were real. Don't judge me too harshly. Wait until you've met one of them for yourself, like David Young from The Throwbacks. (Sounds like a soap opera star, doesn't he?)
DAVID: I think I resent that. After all, I'm a serious crime fighter.
ME: You mean you used to be a crime fighter—didn't Scotland Yard throw you out a year ago?
DAVID: Temporary situation, I assure you. Meanwhile, I've revived my career. I'm in Boston playing the role of Batman opposite a tempting young decorator named Grace.
ME: Aren't you a little too old for a twenty-something young lady? And what do you mean 'playing the role of Batman' anyway?
DAVID: Don't bring up the age card. I already feel my decline coming on. (I blame you for that, by the way.) As for the Batman role, I'm officially the director of the Boston Police Department's Scotland Yard Exchange Program. Very cutting edge in the crime-fighting field. They're working on my utility belt now.
ME: Tell our dear readers what your problem is—and try to be charming.
DAVID: I think you're mistaking me for a ventriloquist's dummy.
ME: Nonsense. Use your own words.
DAVID: I decided I was probably better off leaving Grace behind and never looking back. She was trouble with a capital T—okay—that's old-fashioned, even for me. But she was clearly not right for me. Far too young ingénue, far too white-picket-fence, far too…everything. I needed to find a good solid woman of experience to share my mid-life decline with—if I were to bother inflicting myself on anyone at all.
ME: Sounds depressing. What made you change your mind about sharing your decline?
DAVID: I got over myself. The commission at Scotland Yard let me off the hook for my…er…past rogue venture. I redeemed my crime-fighting hero status by rescuing the Mayor's daughter and Grace from…
ME: Hey—wait a minute! Does the word "spoiler" mean anything to you?

DAVID: You asked. But the main thing is, although I rescued Grace from a dangerous spot, she rescued me as well—apparently from my brooding, yet witty, self-deprecating self.
ME: Sounds like a match.
DAVID: Now who's the spoiler?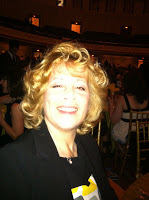 Stephanie Queen's novel The Throwbacks, Book 1 of the Scotland Yard Exchange Program Series, featuring David and Grace, is available now at Amazon.com, B&N.com and Smashwords.com. For more information on all her novels, visit her website at www.StephanieQueen.com
I have an affiliate relationship with Malaprop's, my local independent bookstore located in downtown Asheville, NC; and Better World Books. I will receive a small commission at no cost to you if you purchase books through links on my site.