---
I have an affiliate relationship with
Bookshop.org
and
Malaprop's Bookstore
in beautiful Asheville, NC. I will earn a small commission at no additional cost to you if you purchase merchandise through links on my site. Read more on my
affiliate page
.
---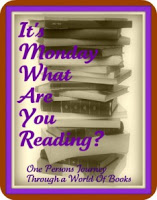 It's Monday! What Are You Reading? is hosted by Sheila at Book Journey.
Over the past two weeks, I've
Read:
The History of Love by Nicole Krauss–So many people whose opinion I respect have loved this book, I expected to love it too. Unfortunately, I didn't. 3 stars.
M is for Magic by Neil Gaiman on audio–I've read a lot of these stories before, but I think that helped me get the hang of audio. My commute passed much faster, and I have a new appreciation for some of these stories. Plus, I love Gaiman's voice.
Dreams Underfoot by Charles de Lint–A re-read. This is the first book in de Lint's Newford stories and I was reminded all over again why I love these. No collection of short stories is ever perfect, but this is about as close as you can get.
Reviewed:
Bending Toward the Sun by Leslie Gilbert-Lurie and Rita Lurie–A thought-provoking Holocaust memoir/study of the effects of the Holocaust on future generations.
The Word Made Flesh by Eva Talmadge and Justin Taylor–I didn't love it, but those more into body art will.
Winter's Tale by Mark Helprin–An old review. The writing is beautiful, but the symbolism defeated me. Those who ♥ NY might get more out of it.
Huck: The Remarkable True Story of How One Lost Puppy Taught a Family–and a Whole Town–About Hope and Happy Endings by Janet Elder–A heartwarming story, but not very gripping or surprising.
The King's Mistress by Emma Campion–Interesting, but too many details and excuses for my taste.
Currently Reading:
The Fixer Upper by Mary Kay Andrews–I'm loving this one on audio. I love Mary Kay Andrews and I really like Isabel Keating's narration. I find myself sitting in the car in the garage (the engine is off, of course) to hear just a little more of the story!
Plant Life by Pamela Duncan–I've only read a couple of paragraphs, but I met this author last spring and she was funny and encouraging. I just loved her.
The Zookeeper's Wife by Diane Ackerman–Not quite what I expected, both in good and bad ways.
Up Next:
The only book I think I might finish soon is The Zookeeper's Wife. I'm thinking about reading one of Mary Roach's books as my before-bed-nonfiction. Stiff, Bonk, Spook, or Packing for Mars. Does anyone recommend one of these over the others?
What are you reading this week?
I have an affiliate relationship with IndieBound, Book Depository, and Better World Books and will receive a small commission at no cost to you if you purchase books through links on my site.