---
I have an affiliate relationship with
Bookshop.org
and
Malaprop's Bookstore
in beautiful Asheville, NC. I will earn a small commission at no additional cost to you if you purchase merchandise through links on my site. Read more on my
affiliate page
.
---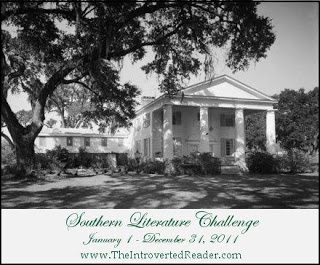 I am proud of my Southern heritage, troubled and imperfect as it may be, and I love to read books set in my region. It sometimes feels like we are a little under-represented in the publishing world, so I would love to encourage any of you who haven't read any Southern lit to give it a try!  And, of course, if you're already a fan, I would love to see what you're reading so that I can add to my ever-growing to-read list!  So here is my 2011 Southern Literature Challenge!
Read a book(s)–non-fiction or fiction of any genre, adult or young adult–written by an author from the South and set mostly in the South.
Definitions of the South are flexible, so I've decided to define it the way I want. That's the fun of hosting your own challenge, right? 🙂
The states:
South Carolina
Georgia
Alabama
North Carolina
Virginia
Tennessee
Mississippi
Louisiana
Kentucky
West Virginia
Texas
Florida–as long as you find a book by a Florida author and/or set in Florida that feels Southern.
Levels:
Level 1–C'mon in the house! Read 1 book.
Level 2–Pull up a seat and stay a while! Read 2 books
Level 3–Have a glass of sweet iced tea, honey. Read 3 books
Level 4–Y'all come back now, y'hear! Read 4 books
The challenge will run from January 1, 2011 to December 31, 2011. You can join in anytime throughout the year.
I am not limiting the challenge to bloggers. You can also link to a review you wrote on another site, such as GoodReads or LibraryThing.
Reading suggestions: I have a shelf on GoodReads with lots of books on it. There's also a Best Southern Literature list on GoodReads that readers have voted on that should give you lots of ideas.
I can't help but feel like there should be a reward for a challenge successfully completed. So, I'll offer up one Southern lit book of your choice (up to $15) to two randomly-drawn readers at the end of the challenge. Each review you link will give you one entry, with a limit of four entries per person. This part will be open to anyone who lives in an area where Book Depository offers free shipping.
The button is a picture of Annandale Plantation near Georgetown, SC that I found on the Historic American Buildings Survey website. As far as I can tell, it is in the public domain.
My reviews:
Plant Life by Pamela Duncan
The Fixer Upper by Mary Kay Andrews
Zora and Me by Victoria Bond and T. R. Simon (Set in Florida! Aren't you all proud of me?)
The House on Tradd Street by Karen White
Leaving Gee's Bend by Irene Latham
Big Cherry Holler by Adriana Trigiani
The Color Purple by Alice Walker
Their Eyes Were Watching God by Zora Neale Hurston
The Peach Keeper by Sarah Addison Allen
Passing by Samaria by Sharon Ewell Foster
The Sweet Potato Queens First Big-Ass Novel: Stuff We Didn't Actually Do, But Could Have, and May Yet by Jill Conner Browne with Karin Gillespie, read by the author
Link your sign-up posts and reviews here using Mr. Linky. Please enter the name of the book and enter the url that will take us directly to your review, not your home page. When linking a review, enter your name or your blog name and then the title of the reviewed book in parentheses. Example: The Introverted Reader (Oral History) I hope you'll join in!
Powered by… Mister Linky's Magical Widgets.
I have an affiliate relationship with Malaprop's Bookstore/Cafe in beautiful Asheville, NC. I will earn a small commission at no additional cost to you if you purchase merchandise through links on my site.