---
I have an affiliate relationship with
Bookshop.org
and
Malaprop's Bookstore
in beautiful Asheville, NC. I will earn a small commission at no additional cost to you if you purchase merchandise through links on my site. Read more on my
affiliate page
.
---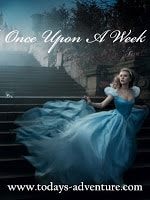 In case you haven't seen it around yet, Today's Adventure is hosting Once Upon a Week this week. This is our chance to talk about fairy tales and those re-tellings we tend to love so much. Thanks to Vanessa for hosting this and to Juju at Tales of Whimsy for creating the beautiful button!
I haven't managed to get any reviews written yet, but I did have fun digging around and getting this post ready.
What do you think about songs that are based on fairy tales? I'm not talking about songs from Disney movies or musicals. I'm talking about "regular" songs you might hear on the radio that explicitly refer to fairy tales. The first one I think of on this topic is "This Kiss" by Faith Hill. The fairy tales come in on the second verse.
And then there's "Fairytale" by Sara Bareilles. LOVE this one!
And that was kind of where I drew a blank. I searched around a little more though and found several more. I'll just link to where you can listen to save this page's load time. 🙂
"Fairytale" by Saturday Night at the Apollo (I'm a little confused as to the name of the group, so if I've goofed, let me know, please. Thanks!)
"The Ballad of Humpty Dumpty and Cinderella" by Aztec Two-Step
"Cinderella Undercover" by Oingo Boingo
I shamelessly plundered this thread on the NaNoWriMo website for the above suggestions.
"Hey, Cinderella" by Suzy Bogguss
"Little Red Riding Hood" by Sam the Sham and the Pharaohs
"The Bonny Swans" by Loreena McKennitt
"Sleeping Beauty" by A Perfect Circle
I found these in this thread on SurLaLune Fairy Tales.
Of course there are tons of these kinds of songs among Celtic groups, but I did try to go for more widely popular stuff. I also started finding songs that are based on Alice in Wonderland or The Wizard of Oz, but I was trying to keep it to the old fairy tales that have been around for ages.
How about you? Do you know of any popular songs that refer to fairy tales?