---
I have an affiliate relationship with
Bookshop.org
and
Malaprop's Bookstore
in beautiful Asheville, NC. I will earn a small commission at no additional cost to you if you purchase merchandise through links on my site. Read more on my
affiliate page
.
---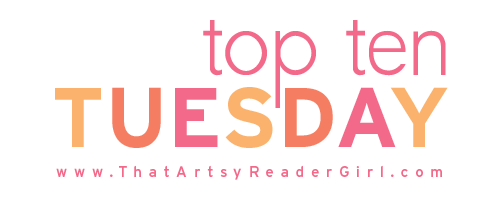 Jana at That Artsy Reader Girl invited us to share our most-anticipated releases for the first half of 2021. I'm not very good at tracking new releases so I'm going off on my own tangent. Lexlingua asked me recently which audiobooks are my favorite of all time so this seems like a good week to answer her question! I had such a hard time narrowing down my list that I'm listing only my top ten adult audiobooks this week. I'll post my top ten choices for younger readers another time.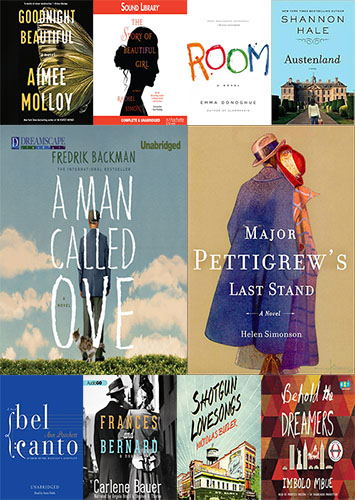 Goodnight Beautiful by Aimee Molloy, read by Val Toomey, George Newbern, Marin Ireland, and Joel Froomkin–I've searched for a thriller with an awesome twist for years now and finally found it in this book! The narrators and production helped the twist immeasurably.
The Story of Beautiful Girl by Rachel Simon, read by Kate Reading–This heartbreaking book ends on such a joyful note, I have to include it. The author writes sensitively about people with different abilities because her sister was born with a developmental disability. This was the first time I listened to Kate Reading's narration and she immediately became one of my go-to narrators.
Room by Emma Donoghue, read by Michal Friedman, Ellen Archer, Robert Petkoff, and Suzanne Toren–Yet another heart-breaker. Friedman's narration as five-year-old Jack made this book almost too real. Fantastically done.
Austenland by Shannon Hale, read by Katherine Kellgren–This cute book left me grinning from ear to ear. I believe it was the audio that led me to Katherine Kellgren, who became my very favorite narrator.
A Man Called Ove by Fredrik Backman, translated by Henning Koch, read by George Newbern–Curmudgeonly widower Ove slowly won over my heart just as he won over his neighbors (or was that the other way around?). Mr. Newbern brought Ove to life for me.
Major Pettigrew's Last Stand by Helen Simonson, read by Peter Altschuler–Major Pettigrew is another widower but he's an unlikely Knight in Shining Armor who needs some saving himself. Peter Altschuler's narration left me with a book crush on this older character who sees past so many prejudices in his small village.
Bel Canto by Ann Patchett, read by Anna Fields–I still chew over this complicated story of terrorists taking a group of politicians and glitterati hostage in an unnamed South American country. Who were the bad guys? I honestly don't know. Anna Fields had a full plate with Spanish, Japanese, and numerous other accents but I thought she handled them all beautifully.
Frances and Bernard by Carlene Bauer, read by Stephen R. Thorne and Angela Brazil–The titular characters are part of New York's intelligentsia and these narrators practically perform their breezy, wry, insightful correspondence in my favorite audiobook "duet."
Shotgun Lovesongs by Nickolas Butler, read by Ari Fliakos, Maggie Hoffman, Scott Shepherd, Scott Sowers, and Gary Wilmes–I was shocked by how much I enjoyed this quiet story about lifelong male friendships. The narrators were perfect.
Behold the Dreamers by Imbolo Mbue, read by Prentice Onayemi–Mbue presents the realities of the "American Dream" with feeling in this novel and Onayemi's narration fits the changing moods of the book beautifully.
That's my list! Have you listened to or read any of these? Which books did/would you choose? Link up every Tuesday at That Artsy Reader Girl!
---