---
I have an affiliate relationship with
Bookshop.org
and
Malaprop's Bookstore
in beautiful Asheville, NC. I will earn a small commission at no additional cost to you if you purchase merchandise through links on my site. Read more on my
affiliate page
.
---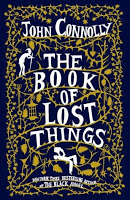 "Um, and what about 'happily ever after'?" asked David, a little uncertainly. "What does that mean?"
"Eaten quickly," said Brother Number One.
That should give you an idea what you're up against with this novel. Twelve-year-old David finds himself in a fairytale kingdom one night, but this kingdom isn't exactly the way he expected it would be after reading his favorite stories.
I'm a sucker for fairy tale retellings, so I was biased in favor of this from the beginning. But this novel worked in several different ways. On the surface, it could just be read as a big adventure story/mash-up of a lot of the classic fairy tales. But David learns a lot about confronting his fears, jealousies, and all the worst parts of himself. I have to say that the tone was fairly dark throughout, so I really had no idea how everything was going to turn out in the end.
There were funny moments, and Snow White's part absolutely cracked me up. It was worth reading this for that scene alone!
Apparently, some editions have some sort of appendix at the back with all the original fairy tales and how they were worked into the story. My copy, the blue one, for what it's worth, doesn't have any of that. I think it would definitely be worth it to look for the editions with the extra information. The red ones? I'm sure I got the obvious references, but there may have been some that I completely missed.
I highly recommend this, especially if you like a well-written remake of fairy tales.