---
I have an affiliate relationship with
Bookshop.org
and
Malaprop's Bookstore
in beautiful Asheville, NC. I will earn a small commission at no additional cost to you if you purchase merchandise through links on my site. Read more on my
affiliate page
.
---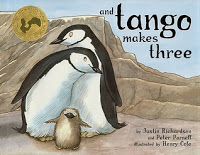 In this true story, Roy and Silo are two male chinstrap penguins in the Central Park Zoo who don't quite fit in. They don't take any notice of the female penguins and instead form their own little family.
What an adorable little book! The illustrations by Henry Cole are charming. The story of Roy and Silo is sensitively written for the young ones. I was sad as they tried to nest and then uplifted when little Tango came along. All in the space of 30 or so pages. And I just love that the story is completely true.
Much as I wish this world were more accepting, this book is not going to be for all families. If your family can handle it, I do recommend the book. It's a good introduction for children to the concept of families that are a little different but that are still built on love.
Banned/Challenged: And Tango Makes Three was the number one most frequently banned/challenged book in 2006, 2007, 2008, and 2010. It was number two in 2009. Holy cow. It's ruffled quite a few feathers, so to speak. We can all guess what the reasons are. "Homosexuality, religious viewpoint, and unsuited to age group," according to the American Library Association website . It is perfectly suited to the age group, being a picture book that is beautifully illustrated with a story that children can follow and ask questions about. It is becoming more common for children to have two mommies or two daddies. Children are going to have questions and this is a place for them to start to find answers. My takeaway message from this book is that what defines a family is love. Who can argue with that? Unfortunately, a lot of people.
Read more reviews at Bonnie's Books (where there's a 7-years-old-at-the-time reviewer!), The Book Lady's Blog, and Rhapsody in Books.
Buy And Tango Makes Three at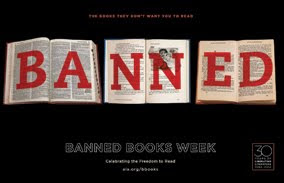 Badge reprinted by permission
of the American Library Association.
I have an affiliate relationship with Malaprop's, my local independent bookstore located in beautiful downtown Asheville, NC; and Better World Books. I will receive a small commission at no cost to you if you purchase books through links on my site.