---
I have an affiliate relationship with
Bookshop.org
and
Malaprop's Bookstore
in beautiful Asheville, NC. I will earn a small commission at no additional cost to you if you purchase merchandise through links on my site. Read more on my
affiliate page
.
---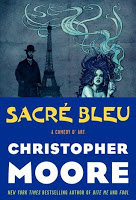 I have mostly been able to follow Christopher Moore into his craziness with success. He makes a joke and I laugh. It might be the weirdest thing ever (Humpback whales with "Bite Me" on their tails?), but I get it. But then there was Fool. And now there is Sacre Bleu.
I got so tired of having absolutely no freaking idea what on earth was going on. I mean, zero idea. You probably have a better idea what's going on than I did. Notice that I didn't write a synopsis? There's a reason.
Individual elements worked well for me. I liked coming across all these painters and seeing them…misbehave. Especially Monet. I read a book about him once. I liked Lucien and Henri a lot. They had been left a little broken by the women in their lives, but they were still young painters (Or bakers. Or counts.) out on the town having a little fun. And sex. And alcohol.
Paris is always a good location to read about. I'm not sure how much I really want to go, but reading a book set in the city always has me ready to pack my bags. And then I think that I would stand out like a sore thumb in chic Paris. And I mentally unpack them again.
I loved that the ink of the book is blue and that so many prints of paintings were included. In color no less! I hate reading a book that talks about a real work of art and there's no print in the book. Call it laziness. It just seems like it should always be included.
I really appreciated that there is a section at the end explaining what is fact and what is fiction. I was a little surprised by what bits fell under which heading. I knew about van Gogh's ear. I did not know that he shot himself in the chest on purpose and then walked a mile to the doctor for help. That truly is some craziness.
But then there's the whole thrust (hee hee! Are you proud, Mr. Moore?) of the story that centers around The Colorman and Bleu. Who the hell are they and what the hell are they doing? I didn't know. I have a better idea now, but I'm still confused. Maybe my sense of humor is broken at the moment. Maybe my attention span is about as long as that of the hummingbirds that are starting to show back up at my house. But I just couldn't follow anything about them. And they really are the entire point of the story.
I have a feeling that if you liked Fool, you'll understand this better than I did, so go ahead and give it a try if you're interested.
Thanks to the publisher for sending me a copy for review.
Read an excerpt.
Find author Christopher Moore on his website, his blog, Facebook, and Twitter.
Buy Sacre Bleu at
I have an affiliate relationship with Malaprop's, my local independent bookstore located in beautiful downtown Asheville, NC; and Better World Books. I will receive a small commission at no cost to you if you purchase books through links on my site.