---
I have an affiliate relationship with
Bookshop.org
and
Malaprop's Bookstore
in beautiful Asheville, NC. I will earn a small commission at no additional cost to you if you purchase merchandise through links on my site. Read more on my
affiliate page
.
---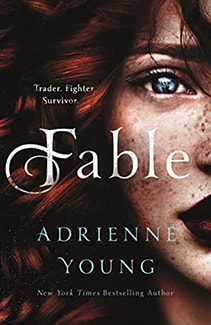 Title: Fable
Author: Adrienne Young
Series: Fable #1
Genre: Fantasy
Audience: Young Adult
Format: E-book
My Synopsis:
Fable's father abandoned her on an island full of thieves when she was only fourteen, telling her "You weren't made for this world, Fable. You want to prove me wrong? Get yourself off this island." Four years later, she finally finds a lode of pyre in one of the reefs that she dives—enough to buy passage off the island and find her father. As the island's residents start to suspect her find, she makes a run for it and ends up on a ship owned by West, the trader who's regularly bought her small finds for years. Fable is ready to locate her father—but will she find the man who was wildly in love with her mother? Or will she find the hardened sailor who abandoned her? And what did he mean when he told her, "Get yourself off this island. And the next time I see you, I'll give you what's yours."
My Review:
This was exactly the kind of book that I needed right now. It was fast-paced with characters I liked who acted in ways that largely made sense to me.
Fable is a survivor who will do a lot of things to get by but she does have her own set of morals. She has a bit of the hopeful optimist about her. Most people would hate the father who abandoned them in such a place but she just wants to find him and prove that he was wrong about her. She's a dredger (free diver) with impressive abilities to find things that others overlook under the water. But mostly she's lonely. She misses her dead mother and wants to form a new family to journey with.
The book contains the barest touch of romance and it's very well done. None of this insta-love that's rampant in other young adult books. The relationship progresses slowly and naturally and when it finally becomes clear that the feelings truly are mutual, my heart was happy for them.
Other characters have their own mysteries and back stories. Some are explored here and some aren't but I'm happy with the way everything unfolded. I enjoyed slowly learning about them along with Fable.
I don't want to say much more about the plot but it definitely kept me turning the pages. This volume does end on a cliffhanger so I can't wait to read the sequel.
I have to comment on the cover too. Isn't it gorgeous? Notice the ship reflected in Fable's eye.
If you're searching for a fast-paced read with appealing characters, I highly recommend this one.
Similar Books:
If you liked Fable, you might also like my reviews of
Purchase:
Buy Fable from Malaprop's Bookstore in Asheville, NC.
I have an affiliate relationship with Malaprop's Bookstore/Cafe in beautiful Asheville, NC. I will earn a small commission at no additional cost to you if you purchase merchandise through links on my site.