---
I have an affiliate relationship with
Bookshop.org
and
Malaprop's Bookstore
in beautiful Asheville, NC. I will earn a small commission at no additional cost to you if you purchase merchandise through links on my site. Read more on my
affiliate page
.
---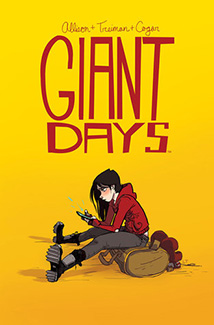 Title: Giant Days Volume One
Author: John Allison
Illustrator: Lissa Treiman
Series: Giant Days #1
Genre: Graphic Novel, Contemporary Fiction
Audience: Young Adult
Format: Paperback
My Synopsis:
Susan, Esther, and Daisy have just started attending university and become fast friends. Susan is the intelligent pre-med student, Esther is the beautiful dramatic one, and Daisy is, well, sweetly naïve. As they navigate eighteenth birthdays (which is apparently drinking age in the UK?), frat boy harassment, community colds, and unrequited love, they support and defend each other.
My Review:
I loved these young ladies! They're funny and they make mistakes but they're loyal and there for each other. I related a lot to both Susan and Daisy. When Daisy asks about book club on her birthday, I howled with laughter! That is so me! I'm not quite sure about Esther and her drama but at least she doesn't actively seek it out; it really does follow her.
The artwork adds a lot of humor and feeling to this graphic novel.
Each chapter tells a pretty discrete story but larger character arcs are hinted at. I'm curious to see what happens to this group of friends in the future and even delve into their pasts a bit more.
I recommend this for anyone looking for a light-hearted romp through those formative college years.
Recommended by:
Heather at Random Redheaded Ramblings
Similar Books:
If you liked Giant Days Volume 1, you might also like my reviews of
Purchase:
Buy Giant Days Volume One from Malaprop's Bookstore in Asheville, NC.
I have an affiliate relationship with Malaprop's Bookstore/Cafe in beautiful Asheville, NC. I will earn a small commission at no additional cost to you if you purchase merchandise through links on my site.