---
I have an affiliate relationship with
Bookshop.org
and
Malaprop's Bookstore
in beautiful Asheville, NC. I will earn a small commission at no additional cost to you if you purchase merchandise through links on my site. Read more on my
affiliate page
.
---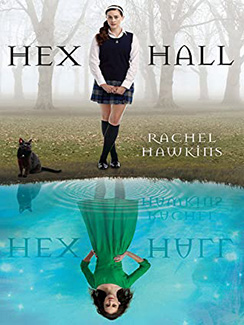 Title: Hex Hall
Author: Rachel Hawkins
Series: Hex Hall #1
Genre: Paranormal, Fantasy
Audience: Young Adult
Format: E-book
My Synopsis:
Sophie Mercer is a witch. She lives with her mom, a mortal, and doesn't really know her dad, a warlock. After a spell she casts at her high school prom goes way wrong, Sophie's parents send her to Hecate "Hex" Hall, which is basically a reform school for magical beings. Shortly after her arrival, someone brutally attacks another witch and the other students blame Sophie's roommate Jenna, a vampire. Sophie tries to clear Jenna's name while also trying to avoid falling for the school's resident hottie.
My Review:
This was so much fun! I devoured it. Sophie is clumsy and goofy and funny and just so relatable to every girl who wasn't part of the beautiful mean girl crowd in high school. Jenna is adorable. How can you dislike a vampire whose favorite color is hot pink?
The pacing of the mystery is spot-on and while I had theories that got a little close to the truth, I was still surprised by the ending.
But holy Chilling Adventures of Sabrina, Batman, some elements of this book and that show were eerily similar. Rachel Hawkins published this book years before the Netflix show (I recommend seasons 1 & 2 but I was horribly disappointed by the silliness of season 3) but I haven't watched the '90s show or read the comics so I don't know who influenced whom. It was impossible not to picture the three dark witches as The Weird Sisters or Archer as Nick Scratch. Still, it's all fun, I just wanted to mention it.
I highly recommend this for anyone in need of a fast-paced, well-characterized fantasy. I'll be picking up the sequel soon.
Similar Books:
If you liked Hex Hall, you might also like my reviews of
Purchase:
Buy Hex Hall from Malaprop's Bookstore in Asheville, NC.
I have an affiliate relationship with Malaprop's Bookstore/Cafe in beautiful Asheville, NC. I will earn a small commission at no additional cost to you if you purchase merchandise through links on my site.