---
I have an affiliate relationship with
Bookshop.org
and
Malaprop's Bookstore
in beautiful Asheville, NC. I will earn a small commission at no additional cost to you if you purchase merchandise through links on my site. Read more on my
affiliate page
.
---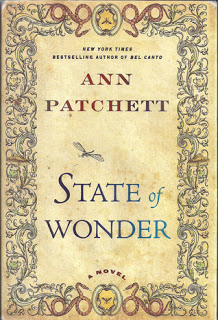 Synopsis from GoodReads:
Award-winning "New York Times"-bestselling author Ann Patchett (Bel Canto, The Magician's Assistant) returns with a provocative novel of morality and miracles, science and sacrifice set in the Amazon rainforest–a gripping adventure story and a profound look at the difficult choices we make in the name of discovery and love.

In a narrative replete with poison arrows, devouring snakes, scientific miracles, and spiritual transformations, State of Wonder presents a world of stunning surprise and danger, rich in emotional resonance and moral complexity.

As Dr. Marina Singh embarks upon an uncertain odyssey into the insect-infested Amazon, she will be forced to surrender herself to the lush but forbidding world that awaits within the jungle. Charged with finding her former mentor Dr. Annick Swenson, a researcher who has disappeared while working on a valuable new drug, she will have to confront her own memories of tragedy and sacrifice as she journeys into the unforgiving heart of darkness. Stirring and luminous, State of Wonder is a world unto itself, where unlikely beauty stands beside unimaginable loss beneath the rain forest's jeweled canopy
It's been a while since I read this, but I actually remember quite a bit of it. That's a good sign. Details of books generally leave me pretty quickly. Still, bullet points will probably say it best.
I wasn't particularly fond of Marina but I don't remember why.
It was very slow to get started. Once Marina gets to Brazil, I didn't think she was ever going to leave that first dirty, hot, hopeless town. Ever.
The beautiful young people she finds to help her were irritating as hell.
The drug that Dr. Swenson was working on left me sending stink-eye stares in the general direction I think my parents live in. "Don't even think about it, Mama. Just don't." (I know you're reading this and wondering if your feelings should be hurt. It's nothing bad. Ask me about it and you'll understand. You'll be shooting stink-eye glances at Granny.)
I read this just weeks after starting a job in clinical research. After all of my brand-new training in Good Clinical Practice and Human Subject Protection and all that, I was a little tickled to read something that I understood from that point of view, at least a little, and horrified by how all of those regulations were thrown out the window by this group of fictional scientists.
Snakes. Snakes! Oh my gosh, possibly the most freaking-Jennifer-out snake scene I have ever read in my life! *shuddershuddershuddershudder*
Once it got going, it was a page turner. My sister compared the plot to something Michael Crichton would write, and she loves his work. I can see where she's coming from.
The plot did fall apart a little bit toward the end. There was simply too much going on.
Let's call this a thinking-person's adventure story. I enjoyed it overall and recommend it if you're looking for something of that description.
Read an excerpt.
Find author Ann Patchett on her website.
Buy State of Wonder at
If you're anywhere around Asheville, NC, Ms. Patchett will be speaking at UNCA in conjunction with Malaprop's on November 5, 2013.
I have an affiliate relationship with Malaprop's, my local independent bookstore located in beautiful downtown Asheville, NC; and Better World Books. I will receive a small commission at no cost to you if you purchase books through links on my site. My opinions are completely my own.