---
I have an affiliate relationship with
Bookshop.org
and
Malaprop's Bookstore
in beautiful Asheville, NC. I will earn a small commission at no additional cost to you if you purchase merchandise through links on my site. Read more on my
affiliate page
.
---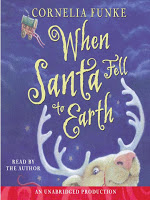 Twinklestar, the last reindeer, panics in a thunderstorm and sends Santa's caravan plunging toward the ground. After making sure everyone is okay, Niklas Goodfellow, the last real Santa, realizes that he has come to earth in a territory controlled by the evil new head Santa, Gerold Goblynch. Niklas is on the run from Goblynch and his cronies, trying to maintain the real meaning of Christmas despite Goblynch's greedy schemes. The caravan is broken and it will take Niklas's elves a while to fix it. Not to mention that no one can find Twinklestar because he's invisible.
Niklas befriends two of the neighborhood children, Ben and Charlotte. They try to help Santa and protect him from Goblynch and his henchmen. They also try to spread the Christmas spirit.
I listened to this on audio, read by the author. I had a little bit of a hard time understanding her German accent. I had to pay very close attention. Also, her voicing for Matilda, Niklas's angel assistant, was way irritating–very high-pitched and bossy. Admittedly, Matilda was a bossy little soul, which would have irritated me enough without the ear-piercing pitch.
There is a good message about the true meaning of Christmas here. Ben and Charlotte learn about friendship and standing up for what you believe in. There's even a little message for parents about maintaining a sense of Christmas wonder.
I am definitely not the target audience for this book. Children will probably like it more than I did. It would probably be nice for them to think about children helping Santa. The little adventures, like searching for Twinklestar and making snow, will be more exciting for them. I can't really recommend the audio, but the print version will be fun for the younger crowd.
Read an excerpt.
Buy When Santa Fell to Earth at
I have an affiliate relationship with Malaprop's, my local independent bookstore located in downtown Asheville, NC; and Better World Books. I will receive a small commission at no cost to you if you purchase books through links on my site.