---
I have an affiliate relationship with
Bookshop.org
and
Malaprop's Bookstore
in beautiful Asheville, NC. I will earn a small commission at no additional cost to you if you purchase merchandise through links on my site. Read more on my
affiliate page
.
---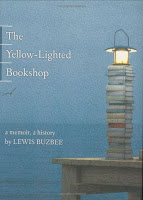 Lewis Buzbee has worked around books his entire life. He worked at the local bookstore through school, and then he worked as a publisher's rep, and I can't even remember what else. This slim, satisfying volume is almost a collection of essays about his thoughts on bookstores, books, readers, and publishing.
I believe I was most excited by the first chapter of this book, "Alone Among Others." I might have things slightly confused, but I believe this was the chapter where the author spelled out the level of his book lust. I'm a voracious reader. I get it. I thought about marking the passages I liked and quickly realized I would be marking everything I was reading.
The book lost me a little after that. I'm not particularly interested in the history of books or how we landed on the perfect shape for a bookstore.
I did like the story of Shakespeare and Co. in Paris and how they came to publish Ulysses and the store's midnight move during WWII.
At the end is a list of some of the author's favorite bookstores from various places. My own local indie, Malaprops, got a mention! It's always exciting to see local favorites mentioned in unexpected places.
I love the size and shape of this book. It's a hardcover but it still fits my hands perfectly, and so I found myself just enjoying the feel of it.
Also, I do love bookstores, but in my heart, I'm a library girl. My mom took my sister and me to the library as far back as I can remember. My first job was at the local library. Even now, when I have stacks upon stacks of books that I own and haven't read yet, the vast majority have come from library book sales and will in all likelihood be donated back for later sales. I get a little overwhelmed in the bookstore. What if I spend all this money on a book and it's not a keeper? I could have just checked it out from the library. Don't get me wrong–I can happily browse in a bookstore for hours, but I'm not all that likely to actually walk out with anything unless an author I love has recently published something that I just have to have.
So that's where my taste and the author's diverged. That doesn't mean the book was bad. Those who do spend more time and money in bookstores will likely take more away from this book.
Read an excerpt.
Find author Lewis Buzbee on his website.
I read this for my own Dewey Decimal Challenge.
Buy The Yellow-Lighted Bookshop at
I have an affiliate relationship with Malaprop's, my local independent bookstore, and Better World Books. I will receive a small commission at no cost to you if you purchase books through links on my site.