---
I have an affiliate relationship with
Bookshop.org
and
Malaprop's Bookstore
in beautiful Asheville, NC. I will earn a small commission at no additional cost to you if you purchase merchandise through links on my site. Read more on my
affiliate page
.
---
Don't you just love larger-than-life characters? The ones who jump off the page and grab you? Whether you love them or hate them, you can't be indifferent to them.

I would love to know about the characters who just won't leave you! Most of you will probably post about how much you love (or loathe) each character, but this is a great place for the more creative ones among you to let go and have fun! Write yourself into a scene with Anne and Diana. Write a love poem in elvish for Aragorn. Draw a picture of Harry obliterating Voldemort. The possibilities are endless.

Be sure to post the book's title and author, and be very careful not to give away spoilers while talking about how much you love your characters.

Mr. Linky will be posted here on The Introverted Reader every Thursday.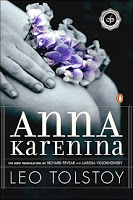 Anna Karenina. The book by Tolstoy is larger than most. The character of the same name is larger than life.
There have been very few characters that I've read about that have left me as conflicted as Anna. I admired her for going after what she wanted while I looked down on her at the same time for exactly the same reasons.
I think my problem was that she was actually married to an okay guy. Sure, it was an arranged marriage, but he treated her and their son well and he worked hard. I'm sure that Anna had it good compared to a lot of women in arranged marriages.
But when she meets the dashing Vronsky, she decides that she wants love and passion at any cost. She throws her reputation to the wind and goes for it. And that's where my double standard came in.
One part of me wondered why Anna just couldn't accept "good enough." She's living in 19th century Russia. She's rich at a time when so many were cold and starving. But that comes at the price of following the rules of society. Those rules say that you just don't leave your husband. Do it and you're ostracized. Anna knew these rules. Yet she was surprised when her friends started treating her differently and she was invited out to less and less social functions. Really? She would have done the same thing to another woman in her shoes.
Another part of me admired her for grabbing what she wanted. Where would women be today if women like Anna hadn't pushed their boundaries? Still treated as chattel and with no rights to speak of. So why can't I just admire her and let all the other stuff go?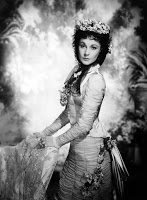 Vivien Leigh as
the lovely Anna
Maybe it's because she also chose Vronsky over her child. I'm not a mother, but I can't imagine willingly giving up a child. Oh, she tried to have her way in that too, but she knew she was in for a fight and yet she still walked away. Maybe it's because I didn't really like Vronsky. He was a charmer who I felt would chase after anything in a skirt. That's not entirely fair to him, but there you go. Maybe it's because the relationship she had with Vronsky was so…tortuous. She went a little (well, maybe a lot) crazy. He was all she had, but he was still accepted in society. What relationship could stand up to that strain? They fought and made up constantly. I can't stand those kinds of relationships, either in fiction or in real life. They just exhaust me.
So you see, my relationship with Anna is just as conflicted as her relationship with Vronsky. It must be her fault, right? 😉
Who did you connect with this week? Link your post on Mr. Linky, then be sure to go check out the other Character Connections!
I have an affiliate relationship with Malaprop's, my local independent bookstore, and Better World Books. I will receive a small commission at no cost to you if you purchase books through links on my site.