---
I have an affiliate relationship with
Bookshop.org
and
Malaprop's Bookstore
in beautiful Asheville, NC. I will earn a small commission at no additional cost to you if you purchase merchandise through links on my site. Read more on my
affiliate page
.
---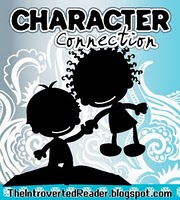 We all have characters we love. Let's spotlight these fantastic creations! Whether you want to be friends with them or you have a full-blown crush on them, you know you love them and want everyone else to love them too!

Most of you will probably post about how much you love each character, but this is a great place for the more creative ones among you to let go and have fun! Write a love letter to Captain Wentworth. Write yourself into a scene with Anne and Diana. Draw a picture of yourself in Jamie's arms. The possibilities are endless.

Be sure to post the book's title and author, and be very careful not to give away spoilers while talking about how much you love your characters.

Mr. Linky will be posted here on The Introverted Reader every Thursday.
Thanks for stopping by my very first Character Connection post! I hope you'll decide to join in!
My very first character spotlight is not going to be a book crush. I'm as surprised as you are!
I'd like to introduce you to Jilly Coppercorn. She's a minor character in most of Charles de Lint's Newford books and stories, but she's the main character in The Onion Girl; Widdershins; and the novella, Promises to Keep.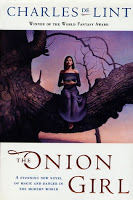 Jilly has never met a fairy tale she doesn't believe in. For that matter, and perhaps harder to believe, she's never met a person she doesn't believe in. It would be easy to write her off as a "cock-eyed optimist" without any sort of firm grounding in reality, but Jilly comes from a reality so dark, most of us wouldn't even want to contemplate it. But she's mostly healed, thanks to friends who found her, rescued her, and believed in her, and now she tries to pay it forward. No, those aren't spoilers; all of that is in the past when you first meet Jilly.
She's everyone's best friend and everyone's biggest cheerleader. She's an amazingly talented artist, and she's always a mess! She's funny, smart, and caring. She might not be truly magical herself, but magic just follows her around. She's probably the biggest reason I call Charles de Lint my favorite author. She's one of those characters that I wish I knew in real life.
So there's my first character connection! What character have you connected with?
Please leave
1. Your name or your blog's name
2. A direct link to your post so we don't have to search your blog for it