---
I have an affiliate relationship with
Bookshop.org
and
Malaprop's Bookstore
in beautiful Asheville, NC. I will earn a small commission at no additional cost to you if you purchase merchandise through links on my site. Read more on my
affiliate page
.
---


Today I'm welcoming Robin Spano, author of Dead Politician Society: A Clare Vengel Undercover Novel to the blog! If you've spent much time here, you know how much I love great characters. I enjoyed reading Robin's post about Clare Vengel's creation!
Synopsis from Robin's site:
After the mayor falls down dead in the middle of a speech, a clandestine student society claims credit for his demise.

Clare Vengel is given her first undercover assignment: to pose as a student and penetrate the society. A streetwise amateur mechanic, Clare finds university a foreign land, and she has trouble creating an in with the suspects. She quickly alienates a popular professor and loses the respect of police superiors.

When another politician is killed, Clare kicks herself into high gear. She forges friendships with students and makes inroads into the secret society.

As the body count rises, Clare realizes that the murderer she has to unmask is someone she has come to consider a friend. She only hopes that the friend doesn't unmask her first.
On to Robin's post!
Clare Vengel: Who She Is, and What She's Like to Write About
I enjoy Clare's company. I like watching her mind as it mulls over clues, I like feeling her perspective change when life makes her see something a different way, and I get a kick out of her sometimes self-destructive temper. I don't like her in a self-congratulatory way—she came from the back of my brain, but I don't feel like I made her. I just like her. I know her. A reader could say a thousand bad things about my writing or my book, and if they told me Clare was likeable, I'd think it was a great review.
Writing, for me, has 2 parts:
Observation: Most of the story, including the characters, will write itself, it I let it.
Wrangling: I need to take what happens and make it readable, logical, and interesting.
Observing Clare is fun. I throw her into a situation and she handles it on her own steam. Wrangling with Clare can be tricky. She's strong; she fights back.
In the early drafts of Dead Politician Society, several readers felt they didn't get to know Clare or like her soon enough, that her sarcastic shell hid her sensitivity so well that readers couldn't see it. (Except my mother, who naturally saw her innate sweetness from the beginning.) They also felt that Clare's intelligence wasn't obvious enough, that she had too many blonde moments for such a savvy brunette.
If the same opinion was coming from all sides, I knew there was likely something to it. But I couldn't figure out a way to fix things. I studied Clare's dialogue. She was saying just what Clare would say. I studied her actions; same thing. Then my agent suggested giving Clare a mentor and a safe place, where she could talk freely without needing her wall of sarcasm.
And so Roberta was born. Roberta has known Clare since she was twelve, she used to work for Clare's father in his auto shop in the town they're both from, and they share a passion for auto mechanics.
In Roberta's shop, while they're working on cars, Clare discusses her fears, challenges, and confusion, letting the reader further into her emotional world. The mechanics problems provide tangible metaphors for Clare's more abstract personal struggles, and they show off Clare's brains (she's really good with cars). She'll talk to Roberta about her family, though she hates talking about it, and won't, with most people.
I'm excited to take Clare through this series, to the various undercover gigs that teach her about herself while entertaining readers. Because while the first goal of writing is to entertain, the first goal of life (for me) is learning. Writing about Clare allows me to combine the two.
I don't have children, but if I did, I think this is how I would feel about them. I care about Clare. I want her to have exciting adventures and travel the world. And I want her to become the fullest person she can be.
Copyright © 2010 Robin Spano, author of Dead Politician Society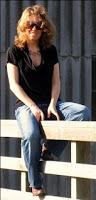 Robin Spano,
author of Dead Politician Society
Posted with permission
Author Bio:
Robin Spano grew up in Toronto, studied physics in New Brunswick, and dropped out to explore North America on her motorcycle. She met her husband while working as a waitress and helped him run his Toronto pool room until they moved to Vancouver. She loves to write crime. She loves the plotting, the pacing, and the character arc of her protagonist. She is currently working on her second novel, in which Clare is undercover as a poker player. She lives in Steveston, BC with her husband, Keith.
Thank you, Robin! I'm just going to add here that Robin was a delight to work with!