---
I have an affiliate relationship with
Bookshop.org
and
Malaprop's Bookstore
in beautiful Asheville, NC. I will earn a small commission at no additional cost to you if you purchase merchandise through links on my site. Read more on my
affiliate page
.
---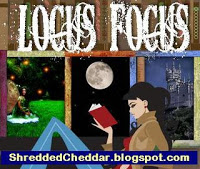 Locus Focus is hosted every Saturday at Shredded Cheddar. Write a post about your favorite setting and go share your link!
Can you imagine Peter Pan without Neverland?
Lemuel Gulliver without Lilliput and Brobdingnag?
The Pied Piper without Hamelin?

A good setting is more than just a backdrop!

Join us every Saturday as we write about our favourite settings and the books that make them come alive!
I've been busy and haven't made time to do this recently, although I love the idea. It gives me an excuse to go digging for pictures of settings that I like.
I read Crocodile on the Sandbank by Elizabeth Peters recently and loved it! Thanks to Allison at The Allure of Books for the recommendation!
Crocodile on the Sandbank takes place in Egypt in the 1880s. Miss Amelia Peabody has embarked on a tour up the Nile to visit all the ancient places that she and her father loved to study together. She is bitten by the archaeology bug when she first visits Giza and sees the Great Pyramid and the Sphinx. This is her first impression: "I had seen engravings of the Great Pyramid and read extensively about it; I thought I was prepared for the sight. But I was not. It was so much grander than I had imagined! The massive bulk bursts suddenly on one's sight as one mounts the steep slope leading up to the rocky platform. It fills the sky. And the color! No black-and-white engraving can possibly prepare one for the color of Egyptian limestone, mellow gold in the sunlight against a heavenly-blue vault."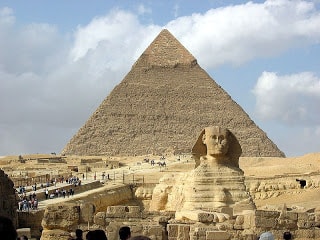 Photo of Khafre's Pyramid and the Great Sphinx taken by Hamish2k and shared on Wikimedia Commons
Miss Amelia is determined not to be one of those travelers who publishes repetitive memoirs about the "local color" and the scenery, and she's mostly successful. She seems to have a soft spot for sunsets though, and has to interrupt her reveries over the amazing sunsets in Egypt pretty frequently. With sunsets like this, I can see why!
Most of the book takes place in Tell el Amarna, where Amelia and her companion meet up with the Emerson brothers, archaeologists excavating the site. In typical fashion, Miss Amelia quickly finds a way to make herself invaluable and pretty much tries to take over things. She has met her match in the oldest Emerson brother though. Instead of tents, they end up sleeping in some of the hillside tombs.
And this is one of the sites they would have been excavating, The Small Temple of the Aten.
That's it for me this week! Do you feel like a world traveler? Are there any settings, real or imagined, that you'd like to write about? Visit Shredded Cheddar, link up, and see where other readers have virtually visited!