---
I have an affiliate relationship with
Bookshop.org
and
Malaprop's Bookstore
in beautiful Asheville, NC. I will earn a small commission at no additional cost to you if you purchase merchandise through links on my site. Read more on my
affiliate page
.
---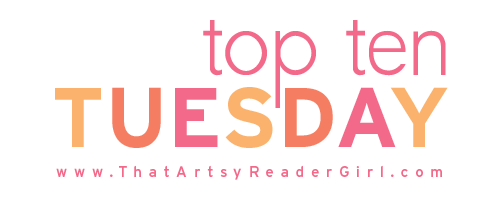 Jana at That Artsy Reader Girl invited us to share the "books I meant to read in 2020 but didn't get to." If you've been around my blog for any amount of time, you'll know that I'm a mood reader and make very few bookish plans. So that means I'm posting my own list again this week. I shared my Top Ten Adult Audiobooks a couple of weeks ago so today I'm sharing my favorite audiobooks for younger readers. This list includes middle grade and young adult titles. Links go to my review (if I wrote one) or to the Malaprop's Bookstore website.
Hello, Universe by Erin Entrada Kelly, read by Ramón de Ocampo and Amielynn Abellera–I listened to this during my extended blogging break and didn't write a review. I regret that so much! I remember that I fell in love with the book, this band of outcasts, and the friendship they form.
Night of Cake & Puppets by Laini Taylor, read by Khristine Hvam and Kevin T. Collins–This is supposed to be a standalone novella in the Daughter of Smoke & Bone series and I guess it could be. But you'll enjoy it all the more if you've already met Zuzana and Mik in the main series. The narrators bring these quirky, hilarious, loyal characters to life.
Echo by Pam Muñoz Ryan, read by Mark Bramhall, David de Vries, MacLeod Andrews, and Rebecca Soler–Echo made it onto my top ten list in 2020. In this middle grade novel, Ms. Ryan explores the transformative power of music. Corky Siegel wrote a beautiful soundtrack that adds a lot of depth without distracting from the story.
Girl in Translation by Jean Kwok, read by Grayce Wey–I was rooting so hard for Kimberly to make it out of the horrible circumstances that she and her mom endured when they immigrated to the US. Grayce Wey's narration made the story feel real to me.
Bloody Jack: Being an Account of the Curious Adventures of Mary "Jacky" Faber, Ship's Boy by L. A. Meyer, read by Katherine Kellgren–Full confession: I didn't actually listen to Bloody Jack but I have listened to the following books in the series all the way up to number ten, which I recently finished. Words truly can't express how much I love Katherine Kellgren's narration. She threw her whole soul into giving these characters their voices. Jacky Faber is a worthy recipient of her talents. I could have included other series that Ms. Kellgren narrated on this list as well but I decided to limit it to one per narrator. Just do yourself a favor and listen to anything that she read.
Stepsister by Jennifer Donnelly, read by Jayne Entwistle–Jayne Entwistle had to grow on me as a narrator but it didn't take her long. I enjoy her narration of the Flavia de Luce mysteries but this book was special. Jennifer Donnelly wrote A Northern Light, which is one of my favorite books of all time. While Stepsister didn't touch me in quite the same way, I did love this feminist spinoff of the Cinderella story.
The Penderwicks: A Summer Tale of Four Sisters, Two Rabbits, and a Very Interesting Boy by Jeanne Birdsall, read by Susan Denaker–Jeanne Birdsall writes beautifully about the innocence and the small (or even not-so-small) trials and tribulations of childhood in this book. It's a truly timeless tale and Ms. Denaker made me love this young family even more.
Cinder by Marissa Meyer, read by Rebecca Soler–I'm not generally a big science fiction reader but a cyborg Cinderella made me step outside of my comfort zone and I'm so glad I did! Ms. Soler captured the different characters' moods and tones so well, I highly recommend listening to the entire series.
The Lost Hero by Rick Riordan, read by Joshua Swanson–Really, I could have listed any mythology book by Rick Riordan here but this was the first one that I listened to. I read the original Percy Jackson series in print and I did love it. But they're such action-packed adventures that they're perfect listens. There have been a lot of narrators, sometimes even within the same series. I liked some more than others but I still recommend any of Riordan's mythology books on audio.
The Saturdays by Elizabeth Enright, read by Pamela Dillman–Elizabeth Enright originally published this book in 1941 but it has aged fairly well. I can't imagine letting young children wander New York City alone now but almost anyone should be able to relate to their small adventures and quarrels and victories. I felt as if Ms. Dillman were telling me a bedtime story as she read this novel and I can't give higher praise than that.
That's my list! Have you listened to any of these? What did you think? Which books did/would you choose? Link up every Tuesday at That Artsy Reader Girl!
---