---
I have an affiliate relationship with
Bookshop.org
and
Malaprop's Bookstore
in beautiful Asheville, NC. I will earn a small commission at no additional cost to you if you purchase merchandise through links on my site. Read more on my
affiliate page
.
---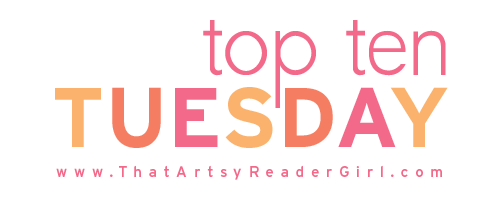 Jana at That Artsy Reader Girl invited us to share our top ten "dynamic duos" this week. I can think of a few ways to interpret this. I decided I didn't want to feature romantic couples; that's a post for another day. I decided to feature best friends instead. You know, those ride-or-dies who will do anything for each other. But then while I was scrolling through my books, a couple of other duos jumped out of me and I thought it would be fun to feature those…unique…relationships as well. So here we go!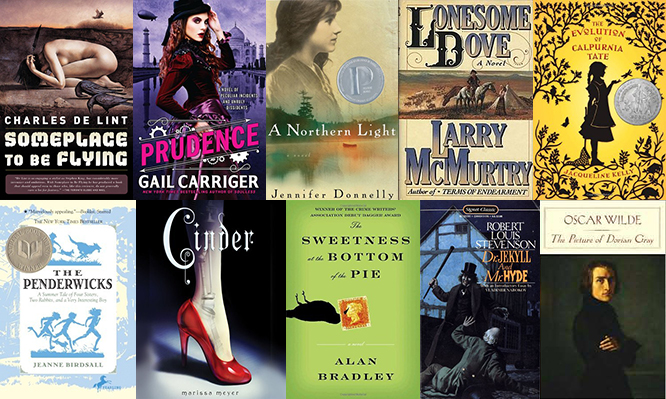 Best Friends
The Crow Girls from Someplace to be Flying by Charles de Lint–I've written a whole post about how much I love these girls who seem to come from a generic Native American pantheon. Sometimes silly, sometimes deadly serious, but always operating by their own code, Zia and Maida are so close, they're practically two halves of the same whole.
Prudence and Primrose from Prudence by Gail Carriger–These two complement each other nicely. I love them both but Rue is a bit more reckless while Prim is the planner and more down-to-earth. Among a madcap airship of memorable characters with realistic, complicated relationships, Rue and Prim's friendship stands out to me.
Maddie and Weaver from A Northern Light by Jennifer Donnelly–I love these two so much. In rural New York in 1906, both of these intelligent young adults have big dreams but the world is trying to hold them back. Maddie was born to be a writer but her dad expects her to stay home and take care of her younger sisters since their mom passed away. Weaver is a young Black man with college dreams. Weaver has enough confidence and belief to carry them both through the hard times. These two have fun together but still bring out the best in each other.
Gus and Call from Lonesome Dove by Larry McMurtry–These two old friends go back decades together. They fight and disagree and irritate the heck out of each other–but they're always side by side through thick and thin.
Calpurnia and Grandpa from The Evolution of Calpurnia Tate by Jacqueline Kelly–These two are an odd pair but Calpurnia would be lost without Grandpa. The lone girl in a houseful of boys, the scientifically-minded girl in a time when girls were only meant to be wives and mothers, Grandpa finally came out of his abstraction to see her and start training her as a scientist. It's heart-warming to watch their relationship grow.
Not-Quite-Human Besties
Batty and Hound from The Penderwicks by Jeanne Birdsall, read by Susan Denaker–Batty is the youngest of four sisters, the one who doesn't remember their dead mother, and the shy, quiet dreamer. She gets a bit lost in the shuffle but she always has faithful Hound by her side during her own little adventures.
Cinder and Iko from Cinder by Marissa Meyer, read by Rebecca Soler–Cinder is a cyborg and, as you can imagine in a retelling of Cinderella, her early life is…kind of miserable. But Iko the quirky android with a personality is a bright spot in her life. She's one of Cinder's first friends and she's the one who will be there no matter what else happens.
Flavia and Gladys from The Sweetness at the Bottom of the Pie by Alan Bradley, read by Jayne Entwistle–Flavia is a brilliant, lonely child, the youngest of three girls. She doesn't remember her dead mother, something her casually cruel older sisters throw in her face often. So she spends time in her chemistry laboratory, solving murders. But she does have one companion when the series starts–her faithful bicycle, Gladys. Gladys gives Flavia the freedom to race around the countryside and get away from her sisters.
Unhealthy Duos
Dr. Jekyll and Mr. Hyde from the book by Robert Louis Stevenson–Mild-mannered Dr. Jekyll and evil Mr. Hyde are complete opposites. I won't say more just in case someone isn't familiar with the story and wants to avoid spoilers.
Dorian Gray and His Portrait from the book by Oscar Wilde–Once this portrait comes into existence, Dorian is inextricably linked to it in creepy, mysterious ways.
That's my list! Have you read any of these? Which books did/would you choose? Link up every Tuesday at That Artsy Reader Girl!
---