---
I have an affiliate relationship with
Bookshop.org
and
Malaprop's Bookstore
in beautiful Asheville, NC. I will earn a small commission at no additional cost to you if you purchase merchandise through links on my site. Read more on my
affiliate page
.
---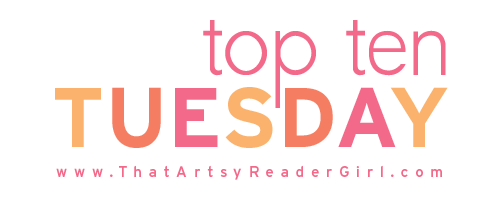 This week's Top 10 Tuesday is a fun one: "Cover Freebie (choose your own topic, centered on book covers or cover art)." I decided to list the top 10 book covers on my Overdrive wish list. In alphabetical order:
Amberlough by Lara Elena Donnelly–The art deco font and flourishes really catch my eye in this stylized cover.
Children of Blood and Bone by Tomi Adeyemi–I don't think anyone can walk by this cover without looking twice. The white hair against the black background leads you down to the red headband and then those striking eyes. Well done.
Heart of Iron by Ashley Poston–First of all, those are the shades of blue and purple that I love. Also, what is that flowery thing floating in space? I want to know more.
Juliet Immortal by Stacey Jay–Romeo and Juliet is not my favorite story, by any means. But the red font and the red dress in that almost monochromatic ocean scene draw me in.
Next Year in Havana by Chanel Cleeton–Oh my goodness. That dress. I dress for comfort rather than fashion but when I do have to dress up, I'm drawn to vintage looks like this. Perfection.
Renegades by Marissa Meyer–I believe this is a story about superheroes (I could be wrong), so I love that at first glance, I primarily notice the very Gotham-esque skyscraper sideline. Then I notice the figures on either side of the tallest building. That very stark color scheme with all the blues, blacks, and red highlights is another plus.
The Round House by Louise Erdrich–At first glance, this cover isn't that exciting. A red smear across a white cover? Whatever. But then I notice the figure of a woman underneath what becomes a red blanket. Is she dead? I need to know.
Small Spaces by Katherine Arden–We have my favorite colors on this cover again. The longer I stare at this cover, the more detail I see. The title that appears to be carved in wood, the "Jack Skellington" face on the right, the school bus, and are those scarecrows and a barn behind the bus? I don't know what all of that adds up to, but I'd like to find out.
Stormsong by C. L. Polk–More purples! Blue is actually my favorite color but you can't tell by this list, can you? The sleigh, the ice, the stars, what's not to love? The cover of the first book of the series leaped out at me at an airport bookstore (Geez, airports. Remember those?) and I checked it out from the library as soon as I got home. The cover of the sequel does not disappoint.
Uprooted by Naomi Novik–One glance tells you that this is a fairy tale and what else do you need to know? I'm sold.
That's my list! Do you love these covers too? Have you read any of them? Should I bump any up my TBR or remove them? Which books did/would you choose? Link up every Tuesday at That Artsy Reader Girl!
I have an affiliate relationship with Malaprop's Bookstore/Cafe in beautiful Asheville, NC. I will earn a small commission at no additional cost to you if you purchase merchandise through links on my site.