---
I have an affiliate relationship with
Bookshop.org
and
Malaprop's Bookstore
in beautiful Asheville, NC. I will earn a small commission at no additional cost to you if you purchase merchandise through links on my site. Read more on my
affiliate page
.
---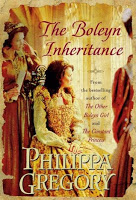 The Boleyn Inheritance is the story of Anne of Cleves, Henry VIII's fourth wife; Jane Boleyn, her lady-in-waiting and Anne Boleyn's former sister-in-law; and Katherine Howard, a beautiful young maid-in-waiting. By now, Henry is a hugely fat, sick, stinking, paranoid tyrant. These three women try their best to keep him happy and stay safe.
I went into this knowing only a tiny bit of these ladies' stories. Sovereign, by C.J. Sansom, is set around this time and the tempestuous life at court was discussed a little bit.
Even knowing how this turned out generally, I found myself getting nervous along with the women as Henry's moods turned for the worse. I was sitting there thinking, "Okay, I know this happened. Right? So it's okay. But what if I'm wrong? I could be wrong. I'm so glad I didn't live in this time." And it was an emotional roller coaster all the way through. I was cautiously optimistic when Henry was happy. I got nervous when he got sick or grumpy. When he was bed-ridden or in a foul mood, I would have bitten my nails with anxiety if I were a nail biter.
Aside from that, the women came to life for me in these pages. Little Kitty especially. She reminded me of Eartha Kitt singing "Santa Baby." "Slip a sable under the tree–for me. I've been an awful good girl." That was pretty little Kitty. Another character compared her to a magpie, collecting shiny things. That fit too. She was vain and couldn't think of anyone or anything outside herself and her wants, but I couldn't help but like her. There was no true malice in her. Every one of her chapters started off with, "Let me see, what do I have?" and then she enumerated her possessions. It sounds terrible, I know, but really I just had to smile at this fourteen-year-old girl and her vanity.
I was surprised that I liked Jane Boleyn as well as I did. I remember what she got up to in The Other Boleyn Girl, and even in Sovereign she was a mean, scheming thing. She was still definitely a schemer, but being inside her head, I saw that she wasn't quite "right," and she was being manipulated even more than she was manipulating. I mostly liked her too.
Anne was the one who really shone for me. I had an idea of her as an awkward, frumpy woman who was probably pretty unpleasant. Here, she was awkward from shyness, but I liked her for her resoluteness and her desire to be free. Free to be her own person. I enjoyed watching her inward journey from the abused middle sister of the Duke of Cleves to becoming the Queen of England. In the end, she became a woman I would like to know in real life.
As for the Duke of Norfolk–!! I'll just say that if half the stuff I've read in historical fiction is true, there must be a special pit in hell for that man. He'll gamble anything to gain power in court, as long as he himself doesn't have to pay the price. Forget him having your back. He'll shove you under the bus when you're not looking. He was awful.
The only thing that really bothers me about these books is that I'm never entirely clear as to where the "historical" part ends and the "fiction" begins. That's not really the author's fault. She does explain a little at the end about what she knows is real, what she thinks might have happened, and what she blatantly made up. One of these days I'm going to have get brave and pick up a real history on the Tudors.