---
I have an affiliate relationship with
Bookshop.org
and
Malaprop's Bookstore
in beautiful Asheville, NC. I will earn a small commission at no additional cost to you if you purchase merchandise through links on my site. Read more on my
affiliate page
.
---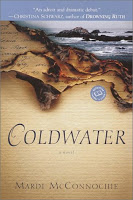 Author Mardi McConnochie imagines what the lives of the Brontë sisters would have been like if they had grown up on a remote island/penal colony off the coast of Australia. In this fictional tale, their father is the warden of the colony, paranoid to the point of madness and with a giant God-complex. He makes life hard for everyone on the island, including his daughters. Charlotte is the sensible one, Emily is overly sensitive with a large streak of the fey in her, and Anne is caught somewhere between them.
The girls realize after their father is shot (it happens on the first page) that they need to try to take control of their own lives, and so they set about trying to earn money the only way they can–by writing. They know it's not a very practical plan when they live in Australia and all the publishers are in England, half a world a way, but what other hope do they have? Their father won't be around forever.
I really don't know why this is rated so poorly on Goodreads because I thoroughly enjoyed it. Maybe people are upset that the lives of these classic authors are so very fictionalized? I haven't read reviews yet to see what's going on.
I love Jane Eyre and I tend to love Gothic stories. Seeing Charlotte Brontë in her own Gothic story was a treat for me. Emily irritated the heck out of me, but Wuthering Heights irritated the heck out of me too, so I thought she was well-represented. I haven't read any of Anne's work although I intend to. The island is so gloomy and atmospheric that it becomes a character in its own right.
I felt so very bad for these sisters. Growing up alone like they have, they aren't really fit for anything. They don't have any "society" to go out into. The only people they see besides their own family are the officers of the prison. They aren't really stimulating companions. They've had such sad, hard lives too. Even before they came to the island, there was tragedy in the family that left them all reeling. None of them have really recovered. As more of their past is revealed, I was more and more horrified of what had happened and how they had each reacted.
If you don't mind reading about real people in a completely fictional setting, I recommend this for a good, Gothic read. This is the perfect time of year to pick up a book like this. Cold howling wind outside, cold howling wind between the pages, but you're nice and cozy with a blanket and a cup of tea. Sounds like heaven to me.
Read an excerpt.
Buy Coldwater at Better World Books
I have an affiliate relationship with Malaprop's, my local independent bookstore located in beautiful downtown Asheville, NC; and Better World Books. I will receive a small commission at no cost to you if you purchase books through links on my site.