---
I have an affiliate relationship with
Bookshop.org
and
Malaprop's Bookstore
in beautiful Asheville, NC. I will earn a small commission at no additional cost to you if you purchase merchandise through links on my site. Read more on my
affiliate page
.
---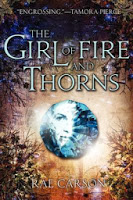 Elisa is a Bearer of the Godstone. Born to the royal family, a bright light engulfed her on her Name Day and left her with a Godstone in her navel. Bearers are marked to carry out a special act of service and they're only born about every hundred years. Unfortunately, they don't tend to live long enough to complete their service.
Elisa doesn't really fit into her own home. Her sister is the one being groomed to rule. Elisa just likes to study her books and, honestly, eat her sorrows. When she finds herself suddenly married off to a neighboring king, she has no idea what to expect. She sets off to be Queen of a country she's never seen. A mutual enemy is threatening their borders, her new husband doesn't seem to know what to do, and since he's decided to keep their marriage a secret, she has no idea what she's supposed to do here either.
I really liked this. Elisa was by no means a perfect heroine. She struggles with her weight and with her own emotional insecurities. But she's an intelligent woman and she's always willing to try her best. She might not be the most charismatic princess but she has an honesty about her that tends to resonate with people once they stop judging her by her weight. I knew there would have to be more to her than what she appeared to be at first glance but the amount of her growth was astonishing. I was incredibly proud of her as she came into her own.
Her story took many twists and turns that kept surprising me. Just when I thought she would settle into one place/story, everything would suddenly change and I would read along anxiously to see how she would handle this new challenge. Through insecurity, heartbreak, physical trials, and mental challenges, Elisa consistently rose to the occasion and kept me interested in her story.
This book wrapped up pretty nicely but there's plenty of room for sequels. I'm starting to really hate gaping cliffhangers, so that was a huge plus for me! I'll keep reading Elisa's story.
Read an excerpt.
Find author Rae Carson on her website, her blog, Facebook, and Twitter.
Buy The Girl of Fire and Thorns at
I have an affiliate relationship with Malaprop's, my local independent bookstore located in beautiful downtown Asheville, NC; and Better World Books. I will receive a small commission at no cost to you if you purchase books through links on my site. My opinions are completely my own.