---
I have an affiliate relationship with
Bookshop.org
and
Malaprop's Bookstore
in beautiful Asheville, NC. I will earn a small commission at no additional cost to you if you purchase merchandise through links on my site. Read more on my
affiliate page
.
---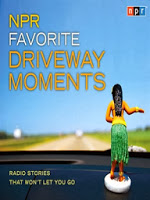 I'm not an NPR listener but something about this title caught my eye. I downloaded it at the end of the year when I was trying to squeeze in one last nonfiction book to complete a reading challenge. Only about two hours long, I knew I could listen to it in just a couple of days on my commute.
The first part was unimpressive. At this point I've forgotten what most of those stories were. I do remember one about a young lady aging out of foster care that made me feel sad for her and others like her. Otherwise, its a pretty big blank.
And then I got to the second part. Here were the stories that wouldn't let me go.
A young man getting off the farm and into college with not much more than his determination and "Ten dollars and a dream."
A small town basketball team making it to the state playoffs, taking the hometown pride with them.
An elderly woman telling a story about her misfortune with a…unique… bra when she was younger had me laughing out loud!
Following a couple after that big earthquake in China flattened their apartment building with their young son and a set of their parents inside.
My favorite was probably the one about the US Marshals who kept their charges safe during school integrations in the Civil Rights era.
Most of these had me near tears for different reasons. And I'm seriously not a crier.
I don't know if the stories really were that uneven or if it just took me half the book to settle into what NPR is about. But once I got into it, I loved it. I felt like I experienced a huge range of human emotion in a short time span. I was saddened, I was angry, I was proud, you name it, I probably felt it.
I do highly recommend this. It would be a good read on a day when you're just feeling down and ready to give up on humanity. This is more what we're about than anything you'll see on the news.
Listen to an excerpt.
Buy NPR Favorite Driveway Moments: Radio Stories That Won't Let You Go at
I have an affiliate relationship with Malaprop's, my local independent bookstore located in beautiful downtown Asheville, NC; and Better World Books. I will receive a small commission at no cost to you if you purchase books through links on my site. My opinions are completely my own.