---
I have an affiliate relationship with
Bookshop.org
and
Malaprop's Bookstore
in beautiful Asheville, NC. I will earn a small commission at no additional cost to you if you purchase merchandise through links on my site. Read more on my
affiliate page
.
---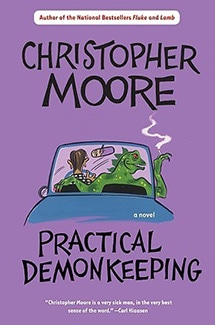 Title: Practical Demonkeeping
Author: Christopher Moore
Series: Pine Cove #1
Genre: Humor, Paranormal, Fantasy
Audience: Adult
Format: E-book
In Christopher Moore's ingenious debut novel, we meet one of the most memorably mismatched pairs in the annals of literature. The good-looking one is one-hundred-year-old ex-seminarian and "roads" scholar Travis O'Hearn. The green one is Catch, a demon with a nasty habit of eating most of the people he meets. Behind the fake Tudor façade of Pine Cove, California, Catch sees a four-star buffet. Travis, on the other hand, thinks he sees a way of ridding himself of his toothy traveling companion. The winos, neo-pagans, and deadbeat Lotharios of Pine Cove, meanwhile, have other ideas. And none of them is quite prepared when all hell breaks loose.
My Review:
I finished this back on July 27 but I've already forgotten everything about it. Ugh. But that's typically what happens with my three-star books so at least I know I rated it accurately.
Christopher Moore's brand of humor is not for everyone. I think it varies wildly from book to book so it's not even reliably to my taste. This book, his first, was funny enough but in a very over-the-top, nonsensical way. If he thought of a funny twist or character trait, it got thrown in the pot for this one.
While there were definitely funny moments as wildly disparate characters got thrown together–a witch and a former seminary student? The same former seminary student and a demon? A genie and the owner of the local bait shop? Somehow it does mostly work but then it just got too crazy at the end. I can't say that I really followed the resolution at all.
I kind of wish I had read this before I read The Stupidest Angel (#3 in the loose series) but I did thoroughly enjoy that one.
Ardent fans of Christopher Moore will enjoy this more than I did. I much prefer (and highly recommend) his A Love Story and Grim Reaper series instead.
Similar Books:
If you liked Practical Demonkeeping, you might also like my reviews of
Purchase:
Buy Practical Demonkeeping from Malaprop's Bookstore in Asheville, NC.
I have an affiliate relationship with Malaprop's Bookstore/Cafe in beautiful Asheville, NC. I will earn a small commission at no additional cost to you if you purchase merchandise through links on my site.