---
I have an affiliate relationship with
Bookshop.org
and
Malaprop's Bookstore
in beautiful Asheville, NC. I will earn a small commission at no additional cost to you if you purchase merchandise through links on my site. Read more on my
affiliate page
.
---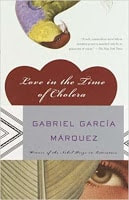 Fermina Daza and Florentino Ariza fall in love when they're very young. Ultimately, Fermina chooses to marry Juvenal Urbino, a wealthy, well-respected doctor from a good family. Florentino decides to wait for Dr. Urbino to die so he can renew his pursuit of Fermina. As he waits, he has 622 affairs.
The best thing about this book for me was the beauty of the language. Even as a translation, García Márquez's writing is lush, descriptive, and transportive. This was the first description I fell in love with:
"He almost always ate lunch at home and had a ten-minute siesta on the terrace in the patio, hearing in his sleep the songs of the servant girls under the leaves of the mango trees, the cries of vendors on the street, the uproar of oil and motors from the bay whose exhaust fumes fluttered through the house on hot afternoons like an angel condemned to putrefaction."
I just read this and I was there. I love when authors do that to me.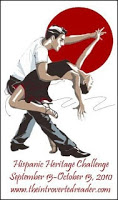 But at heart, I'm a reader in search of a good story with good characters. The language bogged the story down a bit, which I could probably have overlooked, but I also disliked Florentino. That was more of a deal-breaker for me. In 622 affairs, there's a bit of a trail of destruction, and that left me disenchanted with the romantic idea of waiting for your true love. I did enjoy reading about Fermina and Urbino's years together as they try to make a marriage work. One of their arguments practically had me laughing out loud. It was over a silly thing, but those seem to be the arguments that are the worst. García Márquez got all of that so right. I really wish I could bump this up to 4 stars, but I just can't.
Readers who love beautiful language will eat this one up. Those in search of likable characters might want to give it a pass.
Reviewed February 16, 2009