---
I have an affiliate relationship with
Bookshop.org
and
Malaprop's Bookstore
in beautiful Asheville, NC. I will earn a small commission at no additional cost to you if you purchase merchandise through links on my site. Read more on my
affiliate page
.
---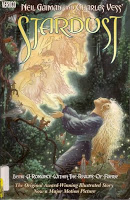 Young Tristran Thorn (who's birth is maybe not as…aboveboard…as Victorian society would like) is desperately in love with Victoria Forester. He screws up his courage one night to ask her to kiss him or marry him or just–something! He is met with laughter. In desperation, he offers to slay dragons and bring back treasures for her, each adventure more outlandish than the last. Finally, as they see a shooting star, he offers to bring back the fallen star for her.
She accepts.
And so Tristran goes over the Wall for which his village is named and into Fairyland.
Tristran is woefully unprepared for what he finds there, but he's an adaptable boy. Maybe suspiciously adaptable? He finds the star and sets off with her toward home and Victoria. That's right–her. In fairyland, the stars are beautiful young women. Tristran's particular star is named Yvaine, and she is unwilling to help him on his quest for true love. Other, more sinister, people are looking for her as well, and many an adventure and near-miss follow.
I have loved this book since I first read it when it was a new book at my local library. I had to have my own copy, and this has to be at least the third or fourth time I've re-read it.
I love the adventure and the unexpected romance, the ghosts of Stormhold, the desperate witch, the humor, the quirky inhabitants of Fairy, and the way that wishes granted rarely turn out as we expect. Tristran grows so much as a character. He goes from a shallow boy whose head is turned by a beautiful face, to a man who places others' happiness before his own. He follows Gaiman's own Instructions about offering aid or accepting help as the situation dictates and finds that things usually turn out for the best that way.
Part of me wishes that Gaiman would go back and fill in some of Tristran's adventures that are only hinted at in the epilogue. Who can resist a story that is summed up with, "Have been unavoidably detained by the world." Intriguing, right? I want to know where he's been in the world and what he's seen. But the rest of me thinks that this book is just perfect the way it is and I don't want it to become a story that is ruined by later installments.
This was my first time reading the Charles Vess edition. Oh my goodness. It is gorgeous. I personally wouldn't really call it a graphic novel. That, to me, implies panels and dialog bubbles. This was more of an illustrated novel. I adore Vess's artwork. His detailed paintings are a delight to pore over. I was fortunate to meet him at an artist signing when his collection, Drawing Down the Moon, was published. He was very nice and I loved hearing him talk about his work. He talked a little about this book, and pointed out some details that I might have rushed over in my eagerness to read the story. Since I knew to look out for the details, I took my time and enjoyed each illustration as its own piece of art. (Hint: look for Gaiman himself in the first fairy market scene. You can take it from there.)
I love this story, and Vess' illustrations just increased my love for it. I highly recommend it.
Read an excerpt.
Find author Neil Gaiman on his website, his blog, Twitter, and Facebook.
Find artist Charles Vess on his website and Facebook.
Read for the following challenges:
Read Me Baby, One More Time
Fairy Tale
Graphic Novels
Page to Screen
Buy Neil Gaiman and Charles Vess' Stardust at
I have an affiliate relationship with Malaprop's, my local independent bookstore located in downtown Asheville, NC; and Better World Books. I will receive a small commission at no cost to you if you purchase books through links on my site.