---
I have an affiliate relationship with
Bookshop.org
and
Malaprop's Bookstore
in beautiful Asheville, NC. I will earn a small commission at no additional cost to you if you purchase merchandise through links on my site. Read more on my
affiliate page
.
---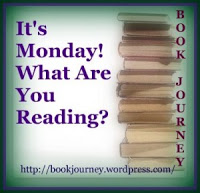 It's Monday! What Are You Reading? is hosted by Sheila at Book Journey.
Over the past two weeks, I've
Read:
Kitty and the Midnight Hour by Carrie Vaughn–It was good, it just pushed some of my buttons. I've been assured that my issues get resolved as the series continues, and I could even see it happening throughout this book.
Without Reservations: The Travels of an Independent Woman by Alice Steinbach–I'm ready to go to Paris. Or the Amalfi Coast. Alice Steinbach is a gorgeous writer and I enjoyed her observations on life.
Kat, Incorrigible by Stephanie Burgis–Very, very cute. I enjoyed the heck out of this one.
Moloka'i by Alan Brennert–I felt bereft when I finished this book and realized that I wouldn't be spending anymore time with Rachel, the main character.
Reviewed:
Beyonders: A World Without Heroes by Brandon Mull–Good start to a middle grade fantasy series. I was disappointed with the unresolved ending.
Southern Plate by Christy Jordan–I'm not a cookbook fan, but I loved looking through this book of familiar dishes and reading Christy's anecdotes.
The Lincoln Lawyer by Michael Connelly–Very twisty, turny plot that kept me turning pages–and I'm not a fan of courtroom books.
The Rooftops of Tehran by Mahbod Seraji–An interesting look at the people of Iran just before their revolution.
Pride and Prejudice and Zombies: Dreadfully Ever After by Steve Hockensmith–My sister guest reviewed. It was her favorite of the trilogy.
Corelli's Mandollin by Louis de Bernières–Gorgeous writing that was a little too dense.
Currently Reading:
The Evolution of Calpurnia Tate by Jacqueline Kelly–Just started it today, but I'm already loving it!
The Alchemyst by Michael Scott, read by Denis O'Hare–Pretty good so far.
Rising Tide: The Great Mississippi Flood of 1927 and How It Changed America by John M. Barry–Slow-going for me, but interesting
Up Next:
I have The Maze Runner by James Dashner ready to go on my iPod as soon as I finish The Alchemyst (I mentioned it last time, but there was a wait at the library). I'm also feeling like a fairy tale retelling (thanks to Book Rat's upcoming Fairy Tale Fortnight), so I'll probably get to The Goose Girl by Shannon Hale soon.
What are you reading this week?
I have an affiliate relationship with Malaprop's, my local independent bookstore, and Better World Books. I will receive a small commission at no cost to you if you purchase books through links on my site.