---
I have an affiliate relationship with
Bookshop.org
and
Malaprop's Bookstore
in beautiful Asheville, NC. I will earn a small commission at no additional cost to you if you purchase merchandise through links on my site. Read more on my
affiliate page
.
---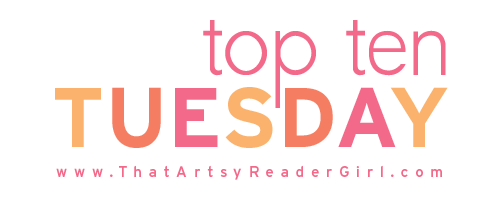 Jana at That Artsy Reader Girl invited us to share ten animals from books this week. This is such a common theme in my reading that I have an entire shelf of animal books on GoodReads so the hardest part of this prompt was narrowing it down to ten! Most of the links go to Malaprop's Bookstore because these are older books I read before I started reviewing.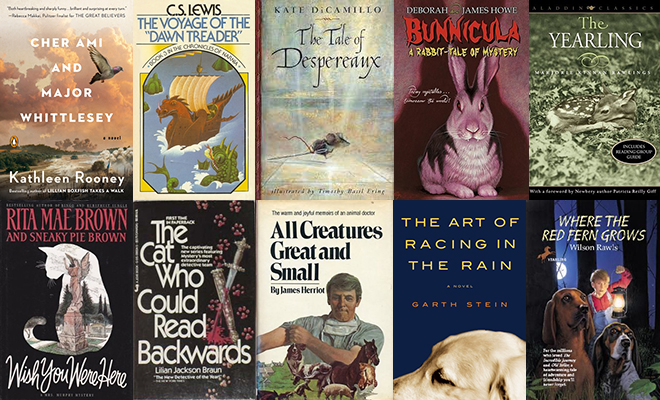 Cher Ami (Cher Ami and Major Whittlesey by Kathleen Rooney)–Although this book is historical fiction, Cher Ami was a real messenger pigeon whose abilities saved a unit of men in World War I. Despite the spelling of her name, she's a female.
Reepicheep (The Voyage of the Dawn Treader by C. S. Lewis)–This book is probably my favorite of the Narnia books and Reepicheep is part of the reason. He's a loyal mouse with the heart of a lion.
Despereaux Tilling (The Tale of Despereaux by Kate DiCamillo)–I might not think of this book immediately if you asked me to list my favorite books, but if you gave me a minute, I would eventually get there and smack my forehead for not thinking of it sooner. Despeareaux is another brave, loyal mouse but he has the heart of a poet and adventurer. I love Despereaux so much, I wrote a character sketch describing him (link in his name).
Bunnicula, Chester the Cat, and Howard the Dog (Bunnicula by Deborah and James Howe)–Who can forget this vampiric bunny and his unfortunate housemates?
Flag (The Yearling by Marjorie Kinnan Rawlings)–Flag is an orphaned fawn that young Jody adopts as a pet despite his father's misgivings.
Mrs. Murphy, Tee Tucker, and Pewter (Wish You Were Here by Rita Mae Brown and Sneaky Pie Brown)–Mrs. Murphy is a tiger cat with a penchant for helping her owner solve mysteries. Mrs. Murphy inevitably draws the corgi Tee Tucker and Pewter the lazy gray cat into her investigations.
Koko and Yum Yum (The Cat Who Could Read Backwards by Lilian Jackson Braun)–Koko and Yum Yum are Siamese cats who help journalist Jim "Qwill" Qwilleran solve mysteries. Unlike Mrs. Murphy and company, they never get a chance to tell their side of the story, so readers are left to wonder along with Qwill–do Koko's extra whiskers give him special abilities?
Tricki Woo (All Creatures Great and Small by James Herriot)–Tricki Woo is a real Pekingese dog who veterinarian James Herriot has to treat fairly often for trouble in his *ahem* nether regions. But Tricki Woo is a generous patient and sends food hampers and other gifts to his favorite vet and frequently invites him to parties in his large house.
Enzo (The Art of Racing in the Rain by Garth Stein)–Enzo is a wise doggy soul who quietly stands by his owner, Denny, through really dark times. He's always there, quietly steadying Denny with his presence.
Old Dan and Little Ann (Where the Red Fern Grows by Wilson Rawls)–Young Billy saves his money to buy two coonhounds to hunt with him. Their bond is unbreakable through all their adventures.
That's my list! Have you read any of these? Which books did/would you choose? Link up every Tuesday at That Artsy Reader Girl!
I have an affiliate relationship with Malaprop's Bookstore/Cafe in beautiful Asheville, NC. I will earn a small commission at no additional cost to you if you purchase merchandise through links on my site.