---
I have an affiliate relationship with
Bookshop.org
and
Malaprop's Bookstore
in beautiful Asheville, NC. I will earn a small commission at no additional cost to you if you purchase merchandise through links on my site. Read more on my
affiliate page
.
---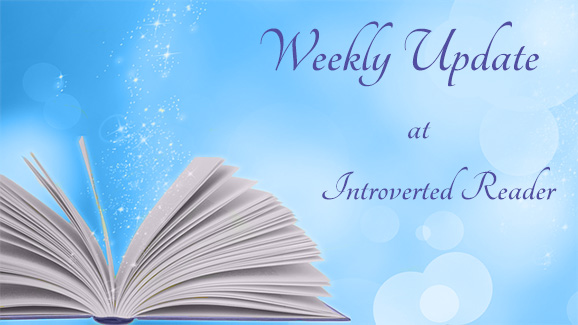 Welcome to my weekly update for August 14, 2022!
This was a quiet week. My husband was on call at work last weekend and really just wanted to relax this weekend.
I planned to read less last week so I could sort through all my Montana pictures (why take one picture when I can take four marginally different photos?) but that didn't happen. I dropped my phone and cracked it across the camera lens. Luckily I have a protection plan that allowed me to get a replacement but I've been transferring everything over and setting that up. I don't usually mind that task but since I just got this phone in April, I do not find it enjoyable now. *sigh* I'm just thankful I only had to pay a relatively small deductible.
I don't have any travel photos to share this week so here are pictures of my sister's two cute doggos and our beautiful farmer's market bounty.
Slideshow:
All images © Jennifer G. at Introverted Reader 2022
Posted:
Love is a Mix Tape: Life and Loss, One Song at a Time, written and read by Rob Sheffield
Dark Waters (Small Spaces #3) by Katherine Arden, read by Renee Dorian
Read:
I have an affiliate relationship with Malaprop's Bookstore/Cafe in beautiful Asheville, NC. I will earn a small commission at no additional cost to you if you purchase merchandise through links on my site.
A River Runs Through It and Other Stories by Norman Maclean 🌟🌟🌟🌟
Best Kept Secret (Clifton Chronicles #3) by Jeffrey Archer, read by Alex Jennings 🌟🌟🌟🌟
Allow Me to Retort: A Black Guy's Guide to the Constitution by Elie Mystal 🌟🌟🌟🌟
Encyclopedia of an Ordinary Life by Amy Krouse Rosenthal 🌟🌟🌟🌟
Currently Reading:
Other Birds by Sarah Addison Allen (A huge thank you to Katie at Doing Dewey! She sent me an ARC when she saw this on my list of anticipated book releases in the latter half of 2022. The book officially releases on August 30.)
20,000 Leagues under the Sea by Jules Verne, translated by Anthony Bonner
Tristan Strong Keeps Punching (Tristan Strong #3) by Kwame Mbalia, read by Amir Abdullah
Up Next:
Banned Books Week is on my radar. It seems a bit earlier than usual this year–September 18-24. I usually try to post a review of a banned book or something every day that week. I've read at least one book already that will fit the theme but I need to read more. After the attack on Salman Rushdie on Friday, I might read his book, The Satanic Verses. Bringing awareness to banned books seems more important than ever this year. It feels like politicians desperate to get their names in the news keep challenging and removing books by and about minority communities.
What did your week look like?
Hosts:
Deb Nance at Readerbuzz hosts The Sunday Salon and Kimberly at Caffeinated Book Reviewer hosts Sunday Post. Kathryn at Book Date hosts It's Monday! What Are You Reading?
---