---
I have an affiliate relationship with
Bookshop.org
and
Malaprop's Bookstore
in beautiful Asheville, NC. I will earn a small commission at no additional cost to you if you purchase merchandise through links on my site. Read more on my
affiliate page
.
---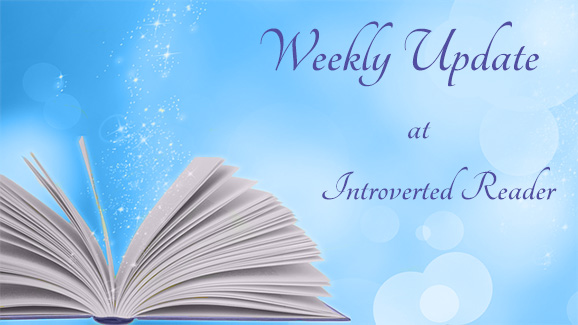 Welcome to my weekly update for December 18, 2022!
Happy Hanukkah to those who celebrate!
First, a social media update. I haven't been very active on Twitter in years but I do share links to my blog posts there. I tried to ride the current chaos out but I decided I was done this week. My account is still technically active because I don't want someone else to take over my username, but I won't be posting there at all any longer. I made the move to Mastodon so you can find me there @IntrovertedReader@bookstodon.com. I probably won't be very active there either, honestly, but if you're looking for more friends, I will follow back.
Since my last update on December 4, we visited Big Sur on the California coast. Our first day was a washout. We could barely see the boulders in the ocean below us. We made the most of it with our rain gear though and we did see the elephant seals on the beach around San Simeon. Oh, and we saw a herd of elk there too.
The next day was supposed to be rainy again but it turned out to be cool and mostly sunny. The road south of us to San Simeon, which we drove the day before, was closed due to the threat of mud slides on old burn scars. We drove north and saw the Bixby Bridge (you'll probably recognize it from car commercials). We also drove the 17-Mile Drive around the famous Pebble Beach Golf Course. That drive was beautiful and we saw sea lions, sea otters, lots of birds, and even some harbor seals! And our patience with the rain was rewarded with a beautiful rainbow!
The next day the road south of our hotel was still closed. We went north again and stopped at Point Lobos State Natural Reserve. It was gorgeous. Our Gypsy Guide app mentioned that the little town of Pacific Grove has a monarch butterfly grove. We stopped by a different monarch grove a few years ago very late in the season and only saw one butterfly there. That was disappointing. But we saw them in Pacific Grove! I was so excited! It was late on a cool day so they weren't fluttering around but they were hanging off the branches in big clumps, called roosts or bivouacs. It was magical to see them. We stopped by BookWorks, an awesome little bookstore, on our way out of town. Pacific Grove is a suburb of Monterey, where John Steinbeck set his book, Cannery Row, so I bought a copy of that.
Slideshow:
All images © Jennifer G. at Introverted Reader 2022
McWay Falls. If the skies had been clear and the water blue, you would probably recognize this waterfall splashing onto the beach. It's pretty iconic. But this is the view we had.
Elephant seals at the Piedras Blancas Rookery near San Simeon. This is their breeding season. I think these are juvenile males practicing their fighting since they don't have that elephantine snout yet. They were surprisingly graceful as they battled.
Elk near San Simeon. I read that this herd is descended from some that William Randolph Hearst kept in his private zoo at Hearst Castle (We've visited the castle before but not on this trip)
Finally, a clear view of the Big Sur coastline.
The Bixby Bridge
Rainbow along the 17-Mile Drive around Pebble Beach
Monarch butterflies roosting
Posted:
I didn't post anything new but I will remind everyone that I'm hosting the Books in Translation and Southern Literature Reading Challenges again this year. All I ask is that you read one book or more and the challenge is complete!
Read:
I have an affiliate relationship with Malaprop's Bookstore/Cafe in beautiful Asheville, NC. I will earn a small commission at no additional cost to you if you purchase merchandise through links on my site.
Woohoo! I finally finished some chunksters!
The Three Musketeers by Alexandre Dumas, translated by Richard Pevear 🌟🌟🌟🌟
The Santa Suit by Mary Kay Andrews 🌟🌟🌟½
Shadow Princess (Taj Mahal #3) by Indu Sundaresan, read by Sneha Mathan 🌟🌟🌟
The Yosemite by John Muir 🌟🌟🌟🌟
Currently Reading:
Winter Solstice by Rosamunde Pilcher
A Lot Like Christmas by Connie Willis, read by multiple narrators
Endurance: Shackleton's Incredible Voyage by Alfred Lansing
The Satanic Verses by Salman Rushdie–I've taken a very long break from this book but I'm going to pick it up again after the new year.
Up Next:
As always seems to happen, two of my Christmas library requests came in at practically the same time. If I finish one of my current books before Christmas, I have Christmas Days by Jeanette Winterson downloaded and ready to go.
What did your week look like?
Hosts:
Deb Nance at Readerbuzz hosts The Sunday Salon and Kimberly at Caffeinated Book Reviewer hosts Sunday Post. Kathryn at Book Date hosts It's Monday! What Are You Reading?
---