---
I have an affiliate relationship with
Bookshop.org
and
Malaprop's Bookstore
in beautiful Asheville, NC. I will earn a small commission at no additional cost to you if you purchase merchandise through links on my site. Read more on my
affiliate page
.
---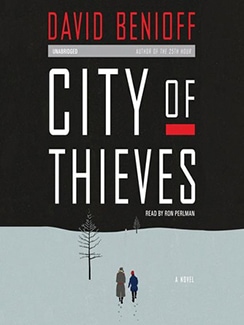 During the siege of Leningrad in World War II, Lev and Kolya find themselves in jail at the same time. After a sleepless night in which they expect to be executed the next morning, they instead find themselves facing a Colonel in the Red Army. He will let them go free if they agree to find a dozen eggs for his daughter's wedding cake. Leningrad is surrounded by Germans and people are starving to death in the streets. They don't know how they're going to do it but they undertake the task.
I really think I would have enjoyed this more in print. There was nothing really wrong with Ron Perlman's narration, but the tone of his voice is just so low that it was pretty easy for me to unintentionally tune him out as I was driving.
That said, I did enjoy it. Poor young, serious Lev, to be stuck with Kolya! But I loved Kolya. He's like that one person that you really like even though you're uncomfortable around him more often than not because of the things that he says. He has no idea when to shut up but he's so charming that he generally gets away with saying whatever he's thinking. He thinks a lot about girls and how much he hates the Germans and a book named The Courtyard Hound. He quotes it all the time! I would have been more of a Lev in their situation, terrified of everything, but Kolya kept young Lev going. He kept me laughing and shaking my head.
The novel felt a bit like The Odyssey, with the young man drifting from one insane adventure to the next. While their journey only lasts a week, so much happens that it felt like much longer. Cannibals, sadists, epic chess games, I just never knew what they were going to get into next. I liked that.
What I did not like was the ending. Not one little bit. I can see that it was necessary but that doesn't mean I have to like it.
This was a perfect read during the–what are they calling it? Polar Vortex?–that has chilled most of the US. I'll complain about the cold all day if I can but reading about these young men in the frigid temperatures of Russia, well the USSR at the time, with no food and inadequate clothing helped me keep things in perspective. Settle in to read this when it's cold outside, enjoy it, and be thankful for what you have.
Buy City of Thieves from Malaprop's Bookstore in Asheville, NC.
Reading Challenges: