---
I have an affiliate relationship with
Bookshop.org
and
Malaprop's Bookstore
in beautiful Asheville, NC. I will earn a small commission at no additional cost to you if you purchase merchandise through links on my site. Read more on my
affiliate page
.
---

Title: This Dark Road to Mercy
Author: Wiley Cash
Genre: Southern Literature, Contemporary Fiction
Audience: Adult
Format: Digital Advanced Reader's Copy
My Synopsis:
Ruby and Easter Quillby are suddenly orphans. Their mom has died of an overdose and their dad gave up his parental rights years ago. They're doing pretty well in a foster home though, happy as long as they have each other. But one day their dad, Wade, shows up. He wants his daughters back. The girls' caretaker explains that he'll have to go through the legal system if he really wants them. Wade doesn't understand why he'd have to do that when he's their father, so he just takes them one night. Unfortunately, he's also taken quite a bit of money he happened to "find." As the little family is fleeing from the police for the kidnapping, they're also running from a hit man with a personal grudge, set on getting back the money and hoping to hurt Wade in the process.
My Review:
Talk about shades of gray! The whole book just drifts around in this nebulous area that left me unsure as to what the right thing to do and the best thing to do really were. I don't think they were ever the same thing. Why should these girls be left in a system that rarely seems to turn out well for anyone when they have a father who wants them back? But can he be trusted not to walk away again? I just couldn't make up my mind about anything. This would be an excellent choice for a book group.
The little family broke my heart in so many ways. I loved Easter's wise, worldly voice but I hated that she was so jaded and only 12 years old. She adored her younger sister Ruby and took excellent care of her. She doesn't know the best thing for them either. She's terrified of being separated from her sister but she can't bring herself to trust the dad she barely knows. Ruby is still pretty innocent but that brings its own heartbreak. She's wide open to being hurt and Easter wants to protect her from that. Sometimes Wade was the saddest character of all. He knows he's messed up in the past but he's trying so hard to make it right. He doesn't see how he's making things worse with this kidnapping and theft. He finds himself in situations he's not even remotely equipped to handle and he knows it but he tries to step up for his daughters. One scene in particular when he stands up for Easter in the only way he knows how just made my chest ache.
The girls also have a court-appointed guardian ad litem who is afraid that the kidnapping is going to become secondary to the theft. There are an awful lot of people looking for that money but he's the only one looking for them. He's an ex-cop who has a big mistake to atone for and he sees this as his chance. I was so glad he was out there, a sort of guardian angel for the Quillby sisters. He struggles with the right thing to do as well. He's a divorced dad who doesn't see his daughter as often as he would like so he can relate a bit to what Wade's going through.
I hated the sections that were told from the hit man's point of view. I was never entirely clear what caused him to hate Wade so much. One incident between them in the past is briefly described but I was still pretty clueless. It's possible that I read it too fast or that it's explained better in the finished book (I had an advanced copy).
This isn't a comfortable book by any means, but it's well-written with characters I was surprised to love so much in so few pages. I highly recommend it.
Thanks to the publisher for allowing me to download a copy for review.
Similar Books:
Other books that explore the realities (both good and bad) of life in the South include:
Purchase:
Buy This Dark Road to Mercy at Malaprop's Bookstore/Cafe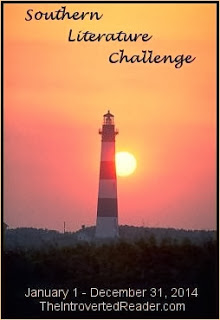 ---