---
I have an affiliate relationship with
Bookshop.org
and
Malaprop's Bookstore
in beautiful Asheville, NC. I will earn a small commission at no additional cost to you if you purchase merchandise through links on my site. Read more on my
affiliate page
.
---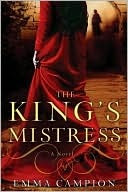 "When had I a choice to be other than I was?"
So begins this fictional autobiography of Alice Perrars' life.
And that's about where I stopped caring overly much.
That's harsher than I mean to be, because the book was okay, but I have very, very little tolerance for excuses. And this was a running theme throughout the book. That's where my biggest problem lay.
I have to say that I don't recall ever coming across Alice Perrars before. She was married to a merchant but then became Edward III's consort. Apparently, the people blamed her for a lot of things that the king did and that went wrong in the country, but "what choice had she?"
It's been months since I finished reading this, so all I can say is that, aside from the excuses that turned me off, Alice had an interesting life. She rose higher than any commoner should have been able to. In this book, she didn't ask for any of it. She only wanted a quiet life with her children away from the public eye.
The other thing that I didn't like was the amount of detail. It took me forever to get through this book! It felt like every little possible meeting with the king and/or queen was detailed here. I quickly lose interest if a book is moving too slow.
Historical England is always interesting to me, so the book still gets three stars. Those who don't mind excuses will probably be more interested than I was.
Thanks to Crown Publishing for sending me a copy for review via Shelf Awareness.
Read an excerpt.
Find author Emma Campion on her website and her blog.
Buy The King's Mistress on
I have an affiliate relationship with IndieBound, Book Depository, and Better World Books and will receive a small commission at no cost to you if you purchase books through links on my site.