---
I have an affiliate relationship with
Bookshop.org
and
Malaprop's Bookstore
in beautiful Asheville, NC. I will earn a small commission at no additional cost to you if you purchase merchandise through links on my site. Read more on my
affiliate page
.
---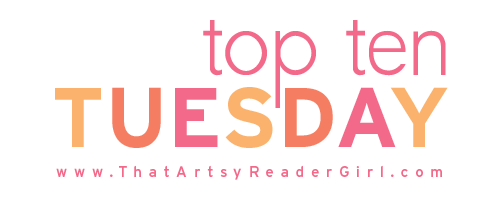 Jana at That Artsy Reader Girl invited us to share ten books with nature on the cover this week. If you asked me to describe what kind of cover I like, I would tell you that I don't like human figures or cheesy stock photos. I also don't particularly care for covers that have flowery vines. But when I started looking through my "read" books on GoodReads, I couldn't get away from people on covers! Apparently I just don't like covers with photos of real people. Anyway, these are the books that I ultimately chose.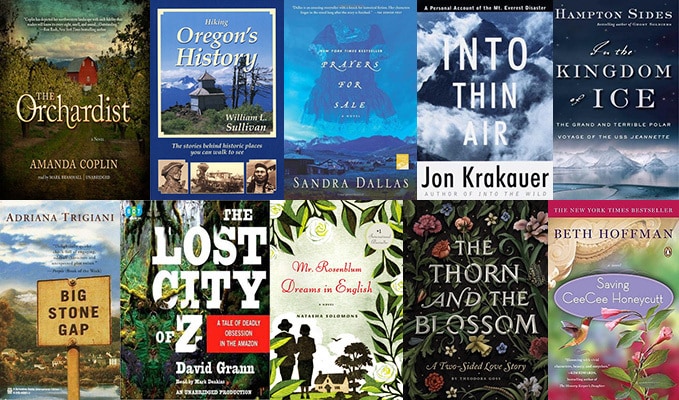 The Orchardist by Amanda Coplin, read by Mark Bramhall–This book takes place in the Pacific Northwest and now that I've spent time in Oregon, I know this cover is perfect. It reminds me of a photograph I took of fruit trees with Mt. Hood in the background.
Hiking Oregon's History by William L. Sullivan–It doesn't get more nature-y than an actual mountaintop photograph, does it?
Prayers for Sale by Sandra Dallas–The baby dress grabs my attention first but then I also notice the little town nestled in those beautiful mountains.
Into Thin Air: A Personal Account of the Mt. Everest Disaster by Jon Krakauer–How could I leave Mt. Everest out of this list?
In the Kingdom of Ice: The Grand and Terrible Polar Voyage of the USS Jeannette by Hampton Sides–I love the translucence of those icebergs and the perfectly calm water. It's a great representation of the story contained inside.
Big Stone Gap by Adriana Trigiani–Can you tell I'm a mountain girl yet? This book takes place in the Appalachian mountains in southwestern Virginia. I grew up on the North Carolina side of those mountains so this cover looks like home to me. I love the little town climbing the hills, the feel of early fall, and the mist hugging the mountaintops.
The Lost City of Z: A Tale of Deadly Obsession in the Amazon by David Grann, read by Mark Deakins–Even if Amazon wasn't in the title, this cover lets you know the book is set in a rainforest somewhere.
Mr. Rosenblum Dreams in English by Natasha Solomons–This isn't my favorite kind of cover but the flower-covered vines, the tree, and the silhouette of a soaring bird fit the prompt perfectly.
The Thorn and the Blossom by Theodora Goss–This is exactly the kind of cover I pictured when I read this prompt. The flowers and the insects are beautiful.
Saving CeeCee Honeycutt by Beth Hoffman–And I'll end with a pretty little hummingbird sipping from a flower.
That's my list! Have you read any of these? Which books did/would you choose? Link up every Tuesday at That Artsy Reader Girl!
I have an affiliate relationship with Malaprop's Bookstore/Cafe in beautiful Asheville, NC. I will earn a small commission at no additional cost to you if you purchase merchandise through links on my site.