---
I have an affiliate relationship with
Bookshop.org
and
Malaprop's Bookstore
in beautiful Asheville, NC. I will earn a small commission at no additional cost to you if you purchase merchandise through links on my site. Read more on my
affiliate page
.
---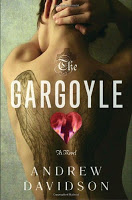 Marianne Engel is the main character from The Gargoyle by Andrew Davidson. It's been a while since I read this, so my details might be off, but I'll definitely be true to the spirit of Marianne.
Marianne at first comes across as a crazy lady. Not in any kind of a dangerous way, but in a whoa-let's-take-a-step-back-here-cuz-what-the-heck-is-this-chick-talking-about kind of way. The narrator, who is never named, has been horribly burned in a car crash. Marianne, whom he has never met before in his life, suddenly shows up in his hospital room claiming that they were lovers in a past life. Now, the narrator at this point is not a nice person. At all. He admits it himself from the beginning. But Marianne comes in and starts caring for him. She sits with him and tells him stories and does whatever she can to make him comfortable and help him pass the time. She even cares for the nurses who are taking care of him. She listens to them and brings them gifts and treats.
Her stories are amazing. They cover vastly different times and cultures, and she talks about the characters as if they're people she's been friends with. They are all beautiful, timeless love stories. And that is how she starts to crack the narrator's tough shell and make him a better man.
She's also a talented carver of gargoyles. I don't remember if she actually says anything like this, but I at least got the impression that she agreed with Michelangelo; she isn't carving a form, she's setting it free. Her other…eccentricities…fade when compared with her carving. So what if she's a little kooky in day to day life? She's spreading love and beauty and compassion in a world that desperately needs it. But when she's carving, she gets a little manic. She says that she has a quota and only a short time left in which to meet it. There don't seem to be any customers waiting, so the whole setup leaves you a little uneasy. She carves day and night, barely stopping for food or rest. She is pouring all of herself into these gargoyles.
And that's probably all I should say. Marianne is a character whose heart and soul have no limits. She is not a character you will easily forget.
Who did you connect with this week? Link your post on Mr. Linky, then be sure to go check out the other Character Connections!
Who do ya love?

Or love to hate?

You know you've got a lot to say about some larger-than-life characters, and this is the place to say it. Write a straightforward post. Draw a picture. Vlog, write poetry, write fiction, cast the role, be as creative as you want!

Be sure to post the book's title and author, and be very careful not to give away spoilers while talking about how much you love your characters.

Mr. Linky will be posted here on The Introverted Reader every Thursday.
I have an affiliate relationship with Malaprop's, my local independent bookstore located in downtown Asheville, NC; and Better World Books. I will receive a small commission at no cost to you if you purchase books through links on my site.