---
I have an affiliate relationship with
Bookshop.org
and
Malaprop's Bookstore
in beautiful Asheville, NC. I will earn a small commission at no additional cost to you if you purchase merchandise through links on my site. Read more on my
affiliate page
.
---
I've been thinking about this since I posted my book crushes on Valentine's Day. Several of you seemed to like the idea and have plenty of book crushes of your own, so I thought I would start a monthly meme where we could write about the characters we feel strongly about. There are so many great female characters out there though, that I don't want to limit this to just book crushes; I want us to be able to talk about all the great characters we relate to, anyone from the girl we wish we could be friends with to the hot guy we wish we could climb into bed with. Or vice versa if that's what works for you. So here are the rules as I'll post them monthly.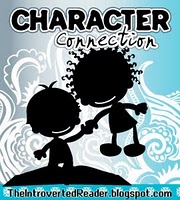 Who do ya love?

Or love to hate?

You know you've got a lot to say about some larger-than-life characters, and this is the place to say it. Write a straightforward post. Draw a picture. Vlog, write poetry, write fiction, cast the role, be as creative as you want!

Be sure to post the book's title and author, and be very careful not to give away spoilers while talking about how much you love your characters.

Mr. Linky will be posted here on The Introverted Reader on the first Thursday of every month.
I've asked Parajunkee to make a button for me, and we all know the great work she does. My first post will be up with Mr. Linky this Thursday, March 25.
I think we can have a lot of fun with this! What do you guys think? Will you be joining in?
If you like the idea, help me spread the word please!