---
I have an affiliate relationship with
Bookshop.org
and
Malaprop's Bookstore
in beautiful Asheville, NC. I will earn a small commission at no additional cost to you if you purchase merchandise through links on my site. Read more on my
affiliate page
.
---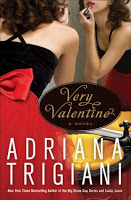 Valentine Roncalli is turning 34 years old, she lives and works with her grandmother, and she's single. She's pretty happy though, until the day her grandmother tells her that the family's custom shoe shop is in financial trouble. Now she finds herself trying to find a way to save the business she loves as she juggles a budding relationship with a hot new restaurateur.
I think my expectations for this were skewed by the first few sentences of the book. It begins,
"I'm not the pretty sister.
I'm not the smart sister either. I am the funny one. I've been called that for so long, for so many years, in fact, that all of my life I thought it was one word: Funnyone."
So I thought I was in for a funny book. It wasn't. Valentine stays entirely too stressed out to really be funny. Not that I blame her–she has a lot on her plate. It just wasn't what I expected from the setup.
Also, I should probably be ashamed to say this, but I don't really care about shoes. I know, I know! But that's me. So all the descriptions of the cute shoes with the perfect fabrics and darling embellishments were lost on me.
The food sounded divine, and I loved the part when Valentine and Gram take off for Italy. I'm ready to go back! They spend time in Tuscany and Capri, and the author's descriptions of both were beautiful. I didn't get to go to Capri when I visited Italy, but I did want to. Now I'm thinking I need to convince my husband that we should go back and spend time south of Rome. I don't think he would need much convincing!
I may not be girly about the shoes, but I am loving this girly cover. Isn't it great?
This was a good book, and I'll pick up the soon-to-be-released sequel sometime. I just thought I would like it more. I loved Big Stone Gap, so my expectations may have been too high. Other readers will probably enjoy it a little more than I did.