---
I have an affiliate relationship with
Bookshop.org
and
Malaprop's Bookstore
in beautiful Asheville, NC. I will earn a small commission at no additional cost to you if you purchase merchandise through links on my site. Read more on my
affiliate page
.
---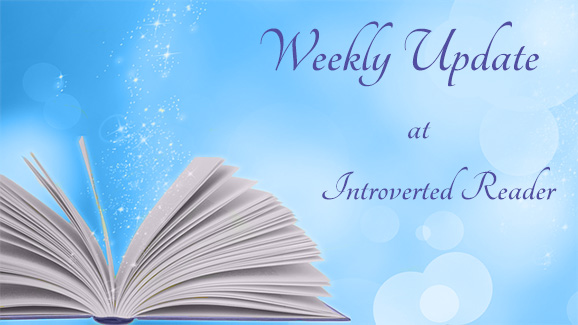 Welcome to my weekly update for April 2, 2023!
We spent last weekend with my husband's cousin and his wife in San Diego, celebrating the cousin's birthday. We ate way too much and had a great time with them, as we always do. On Monday, we caught a break in the rain and drove back to down to San Diego to see the Japanese Friendship Garden at Balboa Park. We were at the end of cherry blossom season but there were still a few late blooms hanging on, in addition to some azaleas, wisteria, and a few other things I can't identify. It smelled heavenly!
Later: Oh goodness! As I was saving this post on Friday evening, we had a minor 4.2 earthquake but it's by far the biggest I've ever felt! We have only felt a few very minor little blips in the past. My husband, who was at work, said his co-workers didn't even remark on it. Nothing shifted in our RV but I thought there were people outside shaking it for some reason. I actually went to the window to look out. That was exciting! And more than enough earthquake activity for me, thankyouverymuch.
Slideshow:
All images © Jennifer G. at Introverted Reader 2023
Cherry blossoms (I believe)
Wisteria blooming on a pergola. The wisteria smelled amazing!
Azaleas blooming around a koi pond
Individual trees frequently grab my attention when we're out and about. I loved the root system on this Moreton Bay Ficus tree (I think that's what it is)
Posted:
All Systems Red by Martha Wells, read by Kevin R. Free: Book Review 🌟🌟🌟🌟
Ten Books I Recommend if You Like L. M. Montgomery
"The Secret Life of Bots" by Suzanne Palmer: Short Story Review 🌟🌟🌟🌟
Read:
I have an affiliate relationship with Malaprop's Bookstore/Cafe in beautiful Asheville, NC. I will earn a small commission at no additional cost to you if you purchase merchandise through links on my site.
Complete Fairy Tales of Oscar Wilde
The Basilisk's Lair (Nathaniel Fludd, Beastologist #2) by R. L. LaFevers, illustrated by Kelly Murphy
Bite-Sized Magic (The Bliss Bakery #3) by Kathryn Littlewood
Lore Olympus Volume Three by Rachel Smythe
Currently Reading:
Fearless Fourteen (Stephanie Plum #14) by Janet Evanovich
European Travel for the Monstrous Gentlewoman (The Extraordinary Adventures of the Athena Club #2) by Theodora Goss, read by Kate Reading
Stamped from the Beginning: The Definitive History of Racist Ideas in America by Ibram X. Kendi
Up Next:
This feels silly to say when I finished four books last week, but I'm in a pretty bad reading slump right now. Reading books from easy series I've already started seems to be working well for me though. We'll see where that leads.
What did your week look like?
Hosts:
Deb Nance at Readerbuzz hosts The Sunday Salon and Kimberly at Caffeinated Book Reviewer hosts Sunday Post. Kathryn at Book Date hosts It's Monday! What Are You Reading?
---