---
I have an affiliate relationship with
Bookshop.org
and
Malaprop's Bookstore
in beautiful Asheville, NC. I will earn a small commission at no additional cost to you if you purchase merchandise through links on my site. Read more on my
affiliate page
.
---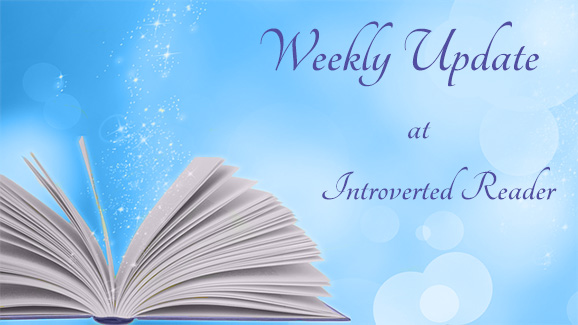 Welcome to my weekly update for April 9, 2023!
Happy Easter, Happy Passover, or Ramadan Mubarak to those who celebrate!
I've been an affiliate of Malaprop's Bookstore in my hometown of Asheville, NC for years now. I link to their website for books I haven't reviewed yet. I'm keeping that relationship because I love my bookstore but I don't think anyone has ever bought anything through one of my links. I'm not trying to make money here–I just want people to know about Malaprop's and support independent bookstores. So I hope that readers are shopping locally!
But now I'm also adding in affiliate links for Bookshop.org. They support independent bookstores in a couple of different ways but they're a bigger company. I decided that if I can realistically influence even one person to buy books from Bookshop instead of Amazon, that would be a win for the little guys. So I'm starting to incorporate those links now.
Last week we drove over to Anza-Borrego Desert State Park. It's California's largest state park. I saw on social media that the wildflowers were in bloom there. It was beautiful and smelled heavenly. I've also been dying to visit that area for a couple of years because they have some metal sculptures that I thought looked really cool. We did that too and they were amazing!
Slideshow:
All images © Jennifer G. at Introverted Reader 2023
Sea dragon sculpture. This thing was huge! It actually crossed the road.
Purple sand verbena and yellow desert sunflower. There were lots of other smaller flowers blooming too but these were the most conspicuous.
Beavertail cactus blooming beside sand verbena
I believe this is an Anna's hummingbird. He sat there for quite a while and let my husband get relatively close before he flew away.
Posted:
The Strange Case of the Alchemist's Daughter by Theodora Goss: Book Review 🌟🌟🌟🌟
Ten Series I Haven't Finished Yet
Artificial Condition by Martha Wells: Book Review 🌟🌟🌟🌟
Read:
Fearless Fourteen (Stephanie Plum #14) by Janet Evanovich 🌟🌟🌟🌟
European Travel for the Monstrous Gentlewoman (The Extraordinary Adventures of the Athena Club #2) by Theodora Goss, read by Kate Reading 🌟🌟🌟🌟
The Endless Beach (Mure #2) by Jenny Colgan 🌟🌟🌟🌟
A Sorrow Fierce and Falling (Kingdom on Fire #3) by Jessica Cluess, read by Fiona Hardingham 🌟🌟🌟🌟
Currently Reading:
Hollowpox: The Hunt for Morrigan Crow (Nevermoor #3) by Jessica Townsend
The Tyrant's Tomb (The Trials of Apollo #4) by Rick Riordan, read by Robbie Daymond
Stamped from the Beginning: The Definitive History of Racist Ideas in America by Ibram X. Kendi
Up Next:
These easy series books are really working for me. I just don't have the attention span for anything that requires more concentration right now for some reason. I don't know what will be next but it will be something along that vein.
What did your week look like?
Hosts:
Deb Nance at Readerbuzz hosts The Sunday Salon and Kimberly at Caffeinated Book Reviewer hosts Sunday Post. Kathryn at Book Date hosts It's Monday! What Are You Reading?
---