---
I have an affiliate relationship with
Bookshop.org
and
Malaprop's Bookstore
in beautiful Asheville, NC. I will earn a small commission at no additional cost to you if you purchase merchandise through links on my site. Read more on my
affiliate page
.
---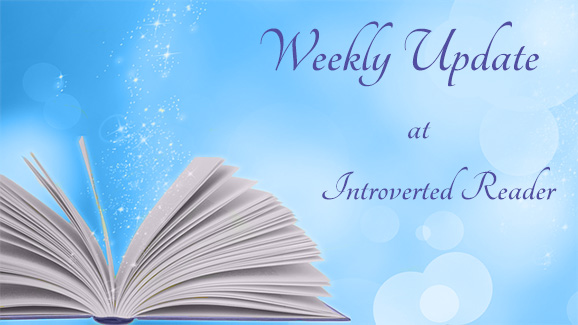 Welcome to my weekly update for August 29, 2021!
I wrote last week about the flooding that affected so many back home in western North Carolina on August 17. Six people died and lots of families lost their homes. Please continue to keep the region in your thoughts and prayers. If you're willing and able, you can make a donation to assist the flood victims through United Way of Haywood County (the county that had the most severe flooding). My thoughts and prayers are with those in Tennessee who had even worse flooding just days later.
On to happier news now.
My husband's cousin and his wife visited for a long weekend last week. We had a great time with them! We all splurged and took a "flightseeing" tour to Lake Clark National Park to watch brown bears fishing for salmon. Words can't express how beautiful this park is! Our bear guide took us out on a pontoon boat, where we watched the bears fishing on the shore of Crescent Lake. Lake Clark is the third-least visited national park in the country because there aren't any roads that lead to it.
We had reservations for a fancy dinner at Alyeska Resort on Saturday night, at a restaurant named Seven Glaciers because of the view. When we drove home, a huge yellow moon was rising over the mountains and reflecting in the water. It was gorgeous! My husband and I tried to remember the last time we saw the moon. We think it was probably in late May/early June while we were still in Sarasota! But it's been getting dark at night in Anchorage for several weeks now. The sun is already setting around 9:30.
And now my sister and her best friend from college arrive for a weeklong visit on Friday! I'm so excited!
Oh, and one more thing before I forget: the Cybils award panel is looking for volunteer judges. If you ever review books for children, middle grade, or young adults, consider applying before the deadline of 11:59 pm on September 1. I've seen on their social media channels that they are looking for judges for all genres but they haven't had many applications to judge young adult nonfiction in particular. Here's a link to the information/application page.
Slideshow:
My husband took some fabulous pictures last weekend with his "real" camera but here are some I took with my cell phone:
All images copyright © Jennifer G. at Introverted Reader 2021
Brown bear fishing for salmon. (If you're curious, "brown bear" is a general term for–you guessed it–all brown bears. Grizzlies are brown bears who live on the interior, away from the coastline)
Mt. Redoubt over Crescent Lake
View from Seven Glaciers restaurant
Full moon rising over the Chugach Mountains and Turnagain Arm. Do you see Jupiter too?
Posted:
Illuminations: A Novel of Hildegard von Bingen by Mary Sharratt–4 Stars
Whiskey When We're Dry by John Larison, read by Sophie Amoss–4 Stars
Ten Books I Wish I Could Read Again for the First Time
Read:
Time and Again by Jack Finney
30 Days of Night by Steve Niles and Ben Templesmith
Archenemies (Renegades #2) by Marissa Meyer, read by Rebecca Soler and Dan Bittner
Currently Reading:
Enter the Detective (Ruse #1) by Mark Waid et al.
Reticence (The Custard Protocol #4) by Gail Carriger, read by Moira Quirk
Once Upon an Eskimo Time by Edna Wilder
Reading Challenge Update:
I've already met or exceeded most of my challenge goals but I fell off the wagon on my three challenges that have a specific prompt for each month. I'll try to make up lost ground in September.
I'm including this in an effort to hold myself accountable. I'll try to remember to update at the end of each month. Challenge title links go to my personal progress page and host links go to the relevant sign-up page.
Up Next:
I'm really going to start The Catcher in the Rye by J. D. Salinger as soon as I finish Enter the Detective! I can only check out three physical books at a time from the Anchorage library and I've had several requests coming in. I've had to read the graphic novels quickly so I can check out my holds before they get returned to the library they really belong to.
What did your week look like?
Deb Nance at Readerbuzz hosts The Sunday Salon and Kimberly at Caffeinated Book Reviewer hosts Sunday Post. Kathryn at Book Date hosts It's Monday! What Are You Reading?