---
I have an affiliate relationship with
Bookshop.org
and
Malaprop's Bookstore
in beautiful Asheville, NC. I will earn a small commission at no additional cost to you if you purchase merchandise through links on my site. Read more on my
affiliate page
.
---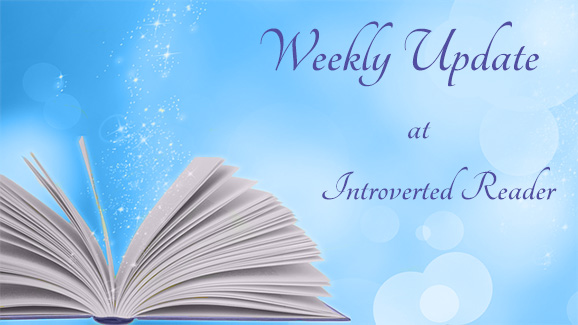 Welcome to my weekly update for July 24, 2022!
My birthday was last Monday and my husband's birthday is this Monday so he took the week off of work. We spent the time in Rapid City, South Dakota. There is a lot to see and do there! We visited Badlands National Park, Wind Cave National Park, Jewel Cave National Monument, Mount Rushmore National Memorial, Black Hills National Forest, the Crazy Horse Memorial, Custer State Park, and more. It was a busy week! And hot. My car's outside thermometer showed that it was 106° F (about 41° C) on my birthday. The forecast was for 105° F so I believe it was right. But we put on our sunscreen and hats, donned our masks in indoor spaces, visited the caves on the hottest day, carried lots of water, and had a fabulous time!
Slideshow:
All images © Jennifer G. at Introverted Reader 2022
Cathedral Spires Trail in Custer State Park
Badlands National Park
Roughlock Falls in Black Hills National Forest
Inside Wind Cave National Park
Mount Rushmore
Posted:
Ten of My Favorite Books Set in the Southern Appalachians
All Passion Spent by Vita Sackville-West: Book Review 🌟🌟🌟🌟
Heart of Iron by Ashley Poston, read by Adenrele Ojo: Book Review 🌟🌟🌟
Read:
I have an affiliate relationship with Malaprop's Bookstore/Cafe in beautiful Asheville, NC. I will earn a small commission at no additional cost to you if you purchase merchandise through links on my site.
Links go to my reviews on GoodReads.
The Ramayana: A Shortened Modern Prose Version of the Indian Epic by R. K. Narayan 🌟🌟🌟🌟
Dark Waters (Small Spaces #3) by Katherine Arden, read by Renee Dorian 🌟🌟🌟🌟
Currently Reading:
I visited a local bookstore in Rapid City, Mitzi's Books. It was a cute shop with a good selection for its size. I couldn't find any fiction obviously set in South Dakota (I rarely buy nonfiction), so I bought A River Runs Through It and Other Stories by Norman Maclean since we're really based in Montana this summer. I started reading it right away.
(Note to any booksellers out there, especially in touristy areas: I love regional sections in local bookstores! And I don't just mean local hiking and tour guides. Spotlight local authors and fiction books set in your area! Malaprop's, my local bookstore back home in Asheville, NC, has always done this and I'm disappointed that I don't see it more often. But maybe it's just me. I've never been a bookseller so I don't know what other people look for and buy.)
The End of Everything (Astrophysically Speaking) by Katie Mack
Up Next:
I downloaded the third Murderbot book, Rogue Protocol by Martha Wells, so my husband and I may listen to that as we drive back to Billings from Rapid City. My sister is scheduled to fly in for a visit on Thursday so I don't think I'll get much reading done but I'll get lots of sister time instead! Even better!
What did your week look like?
Hosts:
Deb Nance at Readerbuzz hosts The Sunday Salon and Kimberly at Caffeinated Book Reviewer hosts Sunday Post. Kathryn at Book Date hosts It's Monday! What Are You Reading?
---