---
I have an affiliate relationship with
Bookshop.org
and
Malaprop's Bookstore
in beautiful Asheville, NC. I will earn a small commission at no additional cost to you if you purchase merchandise through links on my site. Read more on my
affiliate page
.
---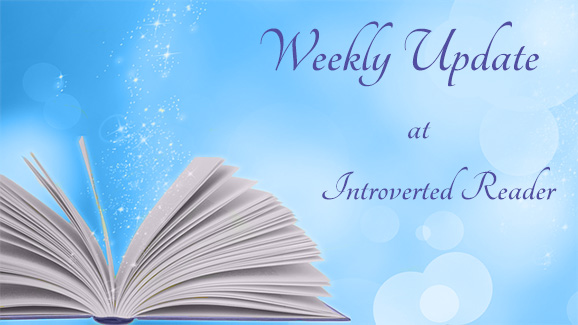 Welcome to my weekly update for June 5, 2022!
Well, I thought I was getting back into the swing of blogging a couple of weeks ago but I was obviously wrong. Maybe this will be my week!
We visited Bighorn Canyon National Recreation Area and were surprised by how beautiful it is! Seeveral wild horses and one bighorn sheep wandered into our path.
We drove down to Cody, Wyoming for Memorial Day weekend to visit Yellowstone National Park. Saturday was wet and cold in the park but we still loved seeing this iconic place for the first time! We have plans to go again later in June, so we weren't in a hurry to see everything. Late in the afternoon, we noticed a few snowflakes mixing in with the rain. We went inside a visitor center and 30 minutes later the snow was pouring down! We decided to head out shortly after that and it's a good thing we did; the roads were getting slushy. The road from the entrance we were using closed an hour after we exited the park. I think we would have been begging for an expensive hotel room inside the park if we had dawdled much longer!
Our entrance was closed again all of Sunday morning so we went to the Buffalo Bill Center of the West, which is a pretty cool complex. There are five museums inside the center and we made our way through four of them. We wouldn't have been interested in the Cody Firearms Museum at any time, but especially not in the wake of all the recent mass shootings. Are we ever going to change or are we going to keep sacrificing our children to guns? I'm afraid I know the answer. We did enjoy the Plains Indian Museum, Draper Natural History Museum, Whitney Western Art Museum, and the Buffalo Bill Museum (William F. "Buffalo Bill" Cody founded Cody, Wyoming).
The entrance road to the park opened in the afternoon but more snow was in the forecast so we decided not to risk it. Sure enough, our entrance road closed again a few hours later. Monday morning was rainy and cold so we gave up and drove back to Billings. It wasn't an ideal weekend but we're still excited that we got to visit Yellowstone!
Slideshow:
All images © Jennifer G. at Introverted Reader 2022
Devil Canyon Overlook in the Bighorn Canyon National Recreation Area
Wild horse from the Pryor Mountain Horse Range, which overlaps with Bighorn Canyon
Inside the Bighorn Canyon area. This formation reminds me of the Painted Hills unit in the John Day Fossil Beds National Monument (My picture of the Painted Hills)
The Dragon's Mouth inside Yellowstone National Park
The Lower Falls of the Grand Canyon of the Yellowstone
We weren't excited to see snow, but at least we got a picture of a bison in the snow! I took this from inside the car with a zoom lens from a safe distance. We try our best to follow park rules and use common sense about staying away from wild animals.
We saw a grizzly bear at a lower elevation as we were leaving the park. Again, we took this from inside the car with a zoom lens from a safe distance. There were about ten cars pulled over and there were a lot of people who were out of their cars and entirely too close though. Yellowstone rangers ask visitors to stay 25 yards (roughly 25 meters) from bison, elk, deer, etc. but 100 yards from predators like bears and wolves.
Posted:
Nothing.
Read:
I have an affiliate relationship with Malaprop's Bookstore/Cafe in beautiful Asheville, NC. I will earn a small commission at no additional cost to you if you purchase merchandise through links on my site.
The Last Child (Johnny Merrimon #1) by John Hart, read by Scott Sowers 🌟🌟🌟🌟
The Eye of the World (The Wheel of Time #1) by Robert Jordan 🌟🌟 ½
Little Women by Louisa May Alcott 🌟🌟🌟 ½
Thorn (Dauntless Path #1) by Intisar Khanani, read by Shiromi Arserio 🌟🌟🌟
Currently Reading:
Virgil Wander by Leif Enger
Aristotle and Dante Dive into the Waters of the World (Aristotle & Dante #2) by Benjamin Alire Sáenz, read by Lin-Manuel Miranda
Drawdown: The Most Comprehensive Plan Ever Proposed to Reverse Global Warming, edited by Paul Hawken
Up Next:
I don't know if I'll actually read it, but I've been thinking about finishing off Marissa Meyer's Renegades trilogy by listening to Supernova. I've also been thinking about books to read for Pride Month. I feel like I'm off to a great start with Aristotle and Dante. I guess Supernova would fit the theme a little since there are at least a couple of minor gay characters. We'll see.
What did your week look like?
Deb Nance at Readerbuzz hosts The Sunday Salon and Kimberly at Caffeinated Book Reviewer hosts Sunday Post. Kathryn at Book Date hosts It's Monday! What Are You Reading?
---