---
I have an affiliate relationship with
Bookshop.org
and
Malaprop's Bookstore
in beautiful Asheville, NC. I will earn a small commission at no additional cost to you if you purchase merchandise through links on my site. Read more on my
affiliate page
.
---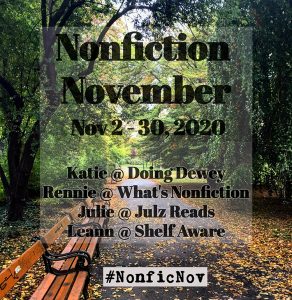 Katie at Doing Dewey, Leann at Shelf Aware, Julie at Julz Reads, and Rennie at What's Nonfiction are co-hosting Nonfiction November. This is my first time joining in! This week's discussion prompt, hosted at Shelf Aware is:
Take a look back at your year in nonfiction and reflect on the following questions – What was your favorite nonfiction read of the year? Do you have a particular topic you've been attracted to more this year? What nonfiction book have you recommended the most? What are you hoping to get out of participating in Nonfiction November?
My general goal is to read one nonfiction book a month and I've read eleven so far this year. Well, I'm 85% finished with Hole in the Sky, but I'm counting it. I think I've done pretty well.
Favorite:
My favorite nonfiction book of the year (so far) is Get Well Soon: History's Worst Plagues and the Heroes Who Fought Them by Jennifer Wright. Jessica at Book Ouroboros recommended it to me and I was honestly shocked by how much I enjoyed it. I haven't reviewed it yet, but Wright's humor and insight had me riveted to the pages. Look at this quote, located only 1% in:
Because when plagues erupt, some people behave amazingly well. They minimize the level of death and destruction around them. They are kind. They are courageous. They showcase the best of our nature. Other people behave like superstitious lunatics and add to the death toll.
I mean, really. Can anyone sum up 2020 better than that? And Wright published this in 2017. I guess there really is nothing new under the sun and we do repeat history that we've conveniently forgotten.
Topic That Appealed to Me:
In glancing through these titles, I can make a case that history has interested me this year, even among titles that don't appear to be historical at first glance. Lies My Teacher Told Me, Out of the Silence, American Heiress, The Unidentified, Get Well Soon, That Wild Country, The Canon, Hiking Oregon's History, and Hole in the Sky have at least an element of history in them.
Most Recommended:
I recommended Get Well Soon and Lies My Teacher Told Me the most. The first one is fascinating to me. The latter is eye-opening. The author of Lies is a historian who highlights the ways that our high school history textbooks, which are primarily written from the viewpoint of White European males, cause cultural and educational damage, and are quite often just flat-out wrong.
Goal:
My primary goal for Nonfiction November is to post my backlog of nonfiction reviews. I've only reviewed two of these eleven titles so far (I Should Have Honor and The Book of Awesome). I read a couple of them too early in the year (before I revived my book blog) to have anything meaningful to say about them, but I should be able to post something coherent about the remaining five or six.
Are you joining in Nonfiction November? What have been your favorite titles so far this year? Be sure to link this week's discussion post at Shelf Aware!
I have an affiliate relationship with Malaprop's Bookstore/Cafe in beautiful Asheville, NC. I will earn a small commission at no additional cost to you if you purchase merchandise through links on my site.