---
I have an affiliate relationship with
Bookshop.org
and
Malaprop's Bookstore
in beautiful Asheville, NC. I will earn a small commission at no additional cost to you if you purchase merchandise through links on my site. Read more on my
affiliate page
.
---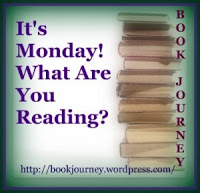 It's Monday! What Are You Reading? is hosted by Sheila at Book Journey.
Over the past two weeks, I've
Read:
Percy Jackson and the Olympians: The Last Olympian by Rick Riordan–I never read series books back-to-back, but I had to know how this ended!
Embroideries by Marjane Satrapi–Very funny, honest, graphic novel about the sex lives of Iranian women!
The Yellow-Lighted Bookshop by Lewis Buzbee–Didn't finish as strongly as it started for me, but I really loved the parts that I loved.
Rooftops of Tehran by Mahbod Seraji–Teens in Tehran in 1973. A refeshing look at Iran, showing that we're more alike than we think.
Reviewed:
A Year in Provence by Peter Mayle–Like a vacation to France in a book. Without the headache of your own builders.
Austenland by Shannon Hale–Very cute.
The Name of the Wind by Patrick Rothfuss–Very strong start to a fantasy series.
Zora and Me by Victoria Bond and T. R. Simon–Imaginative, young Zora Neale Hurston and friends investigate a murder and learn some truths about race relations.
North and South by Elizabeth Gaskell–If you're an Austen fan, you have to read this if you haven't already.
The Known World by Edward P. Jones–Heart-breaking historical fiction about a black slave owner.
Currently Reading:
Kitty and the Midnight Hour by Carrie Vaughn–Almost done! I have to chew this one over before reviewing.
Without Reservations: The Travels of an Independent Woman by Alice Steinbach–I was ready to hop a plane to Paris by the end of the first chapter.
Kat, Incorrigible by Stephanie Burgis–I haven't actually started yet, but it sounds good!
Up Next:
I'm not sure. It's almost time for a new audiobook. I may try The Maze Runner by James Dashner. Has anyone listened to it? What did you think?
What are you reading this week?
I have an affiliate relationship with IndieBound and Better World Books and will receive a small commission at no cost to you if you purchase books through links on my site.