---
I have an affiliate relationship with
Bookshop.org
and
Malaprop's Bookstore
in beautiful Asheville, NC. I will earn a small commission at no additional cost to you if you purchase merchandise through links on my site. Read more on my
affiliate page
.
---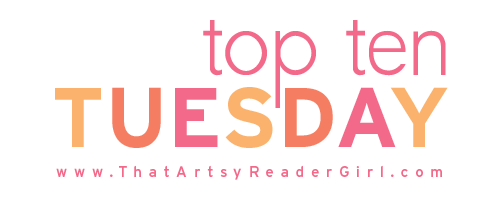 Jana at That Artsy Reader Girl invited us to share a "Top Ten Tuesday Rewind" this week. We're supposed to choose a previous TTT topic that we missed or update a TTT post that we wrote in the past. I didn't really feel like looking through old topics, though there are plenty of interesting ones that I've missed, so I just chose ten book covers that make me think of spring.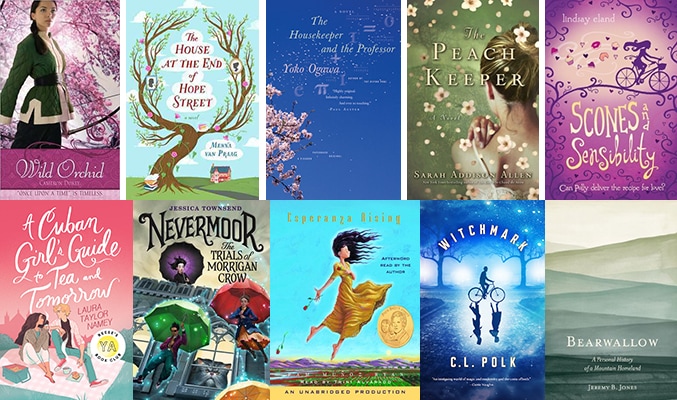 I have an affiliate relationship with Malaprop's Bookstore/Cafe in beautiful Asheville, NC. I will earn a small commission at no additional cost to you if you purchase merchandise through links on my site.
First of all, the obvious choices: trees in blossom and shades of pink and purple always make me think of spring.
Wild Orchid: A Retelling of "The Ballad of Mulan" by Cameran Dokey
The House at the End of Hope Street by Menna van Praag
The Housekeeper and the Professor by Yōko Ogawa, translated by Stephen Snyder
The Peach Keeper by Sarah Addison Allen
Scones and Sensibility by Lindsay Eland
A Cuban Girl's Guide to Tea and Tomorrow by Laura Taylor Namey, read by Frankie Corzo
And now for the not-so-obvious:
The Trials of Morrigan Crow (Nevermoor #1) by Jessica Townsend–This could really be anytime in the world of the book because the characters travel via "brolly [umbrella] rail." But all those colorful umbrellas in an overcast sky make me think of spring showers bringing May flowers.
Esperanza Rising by Pam Muñoz Ryan, read by Trini Alvarado–If you look closely, the fields below Esperanza look like they're in the process of being planted. And Esperanza's name translates to "hope." What could be more spring-like than hope?
Witchmark (The Kingston Cycle #1) by C. L. Polk–The world of this book is very wintery, if I recall correctly, so the bare trees, the lack of snow, and the cobblestones that look like a shower has just passed through make me think of spring.
Bearwallow: A Personal History of a Mountain Homeland by Jeremy B. Jones–This is probably the most subtle of them all unless you've spent significant time in the mountains. I'm a Blue Ridge Mountain girl and there's a town near me that hosts a "Greening Up the Mountains Festival" every April. That's because the trees and other plants in the valleys turn green first, then you watch all the green slowly travel up to the mountaintops as the season progresses. It looks like the mountains on this cover are in the process of "greening up."
That's my list! Have you read any of these? Which books did/would you choose? Link up every Tuesday at That Artsy Reader Girl!
---