---
I have an affiliate relationship with
Bookshop.org
and
Malaprop's Bookstore
in beautiful Asheville, NC. I will earn a small commission at no additional cost to you if you purchase merchandise through links on my site. Read more on my
affiliate page
.
---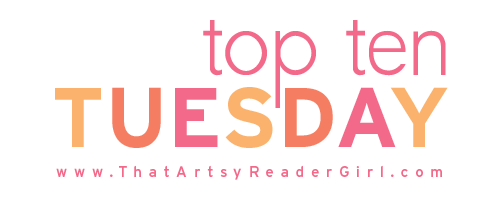 Jana at That Artsy Reader Girl invited us to share ten books we recommend to others the most. I decided that would be the same list as my ten favorite books of all time so I went rogue. I'm listing ten sets of book characters who should meet in some sort of time- and reality-bending fan fiction. The book pairings don't necessarily have anything to do with each other but something about the characters strikes me as complementary.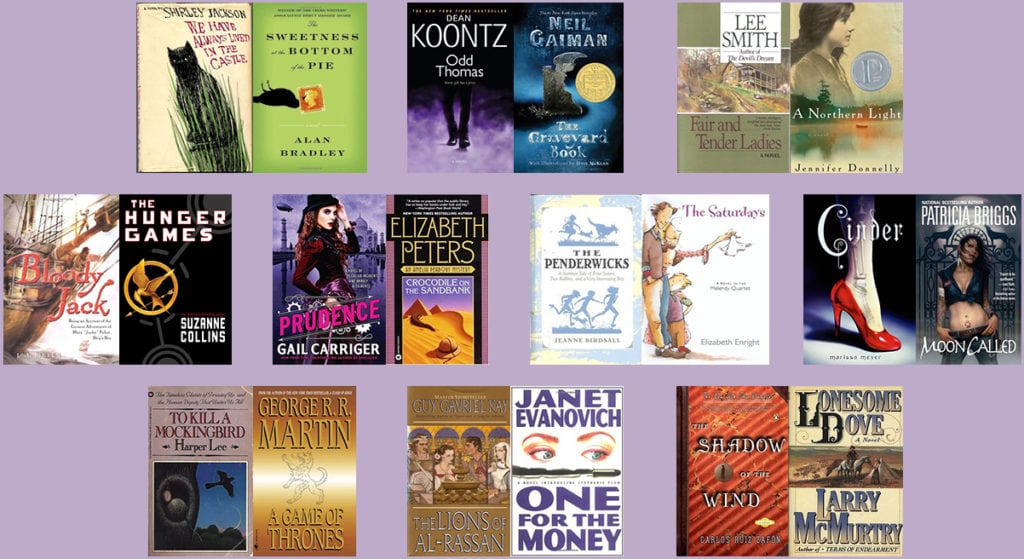 Merricat Blackwood (We Have Always Lived in the Castle by Shirley Jackson) and Flavia de Luce (Eponymous series by Alan Bradley)–I'm not sure if these two would literally murder each other or if they would team up to poison everyone around them but whatever the verdict, it would be a fun book to read. They're both macabre young girls with a deadly combination of intelligence, curiosity, and differing degrees of amorality.
Odd Thomas (Eponymous series by Dean Koontz) and Nobody Owens (The Graveyard Book by Neil Gaiman)–The man who sees ghosts and the boy who was raised by them. This seems like a natural fit. I think they would both find some relief in talking with another person who understands the unusual life they each lead.
Ivy Rowe (Fair and Tender Ladies by Lee Smith) and Mattie Gokey (A Northern Light by Jennifer Donnelly)–These two Appalachian mountain girls are expected to stay home and help with siblings until they're old enough to get married and have children of their own. But they both want bigger things. I think they would appreciate an encouraging hand as they set out on their difficult paths.
Jacky Faber (Bloody Jack series by L. A. Meyer) and Katniss Everdeen (The Hunger Games series by Suzanne Collins)–I originally paired Jacky with Una Spenser from Ahab's Wife by Sena Jeter Naslund because they both set out to sea disguised as boys. But then I decided that I would like Jacky to meet Katniss instead. They are both survivors who find themselves in impossible situations that aren't entirely of their own making. I think they could find some healing in discussing their past experiences, though somber Katniss might give irrepressible Jacky some side-eye!
Prudence "Rue" Akeldama (The Custard Protocol series by Gail Carriger) and Amelia Peabody (Eponymous series by Elizabeth Peters)–These two Victorian(ish) ladies delight in traveling and sticking their noses into places where they don't belong. I can't even begin to imagine the adventures they would have together.
The Penderwicks (Eponymous series by Jeanne Birdsall) and The Melendy Family (Eponymous series by Elizabeth Enright)–These two series take place decades apart but the innocent childhood adventures are similar. I think these two large families would have an even better time exploring and learning about the world together than they do apart.
Cinder (The Lunar Chronicles by Marissa Meyer) and Mercy Thompson (Eponymous series by Patricia Briggs)–I haven't come across very many stories featuring female mechanics so I think these two would have a good time talking shop. Mercy could also give Cinder some pointers about dealing with wolves.
Atticus Finch (To Kill a Mockingbird by Harper Lee) and Eddard "Ned" Stark (A Game of Thrones by George R. R. Martin)–Atticus is a bit wiser than Ned but both men choose to do what is right rather than what is easy. Maybe Atticus can give Ned some pointers about how to do that without utterly destroying your relationships with your peers.
Rodrigo Belmonte and Ammar ibn Kharain (The Lions of al-Rassan by Guy Gavriel Kay) and Ranger and Joe Morelli (Stephanie Plum series by Janet Evanovich)–Each of these pairs consists of alpha men caught in one woman's orbit. Rodrigo and Ammar have found a way to live with that and still be friends. Maybe they can share the secrets of their success with Ranger and Morelli, who tolerate each other from a distance at best.
Fermín Romero de Torres (The Shadow of the Wind by Carlos Ruiz Zafón) and Captain Augustus "Gus" McCrae (Lonesome Dove by Larry McMurtry)–These two, man. These two. I don't think my heart could handle them together. They're madcap adventurers at heart but they both have gallant souls. They would fit in at the Round Table at the height of chivalry. They would get up to a lot of no-good together, as my grandmother would say, but the ladies in their vicinity would love them both.
That's my list! Have you read any of these? Which characters would you pair together and why? Link up every Tuesday at That Artsy Reader Girl!
---